How Much Of A Spending Boost Are Cheap Gas Prices?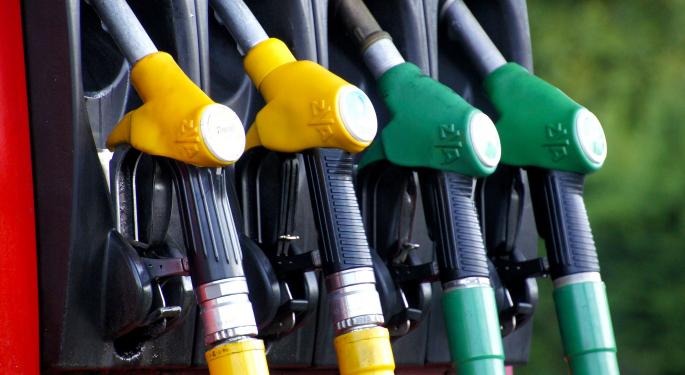 Gas prices, despite the historical norm of rising amid the summer driving season, is trending lower. From a consumer perspective, it is definitely good news, as it would pinch their pocket less and in turn leave them with additional disposable income.
The promise it holds for consumer spending is reflected in recent consumer confidence readings. A report released on Tuesday showed that confidence among consumers unexpectedly increased in June. The Conference Board's U.S. consumer confidence index rose to 118.9 in June from 117.6 in May, although off a 16.5-year peak reached in March.
But just how big of a spending boost are cheap gas prices?
Low ... Lower ... Lowest
Gas prices this July 4 holiday weekend could be about 30 percent below the 10-year average for this period, according to GasBuddy's senior petroleum analyst Patrick DeHaan. DeHaan expects gas prices to average $2.21 a gallon this year, the lowest Independence Day gas prices since 2005, and steeply lower than the 10-year average of $3.14 a gallon.
"Most importantly, motorists are getting a well-deserved break at the pump after years of high summer gas prices. This is like Christmas in July, instead of seeing fireworks at the pumps like we saw just a few short years ago," DeHaan said.
GasBuddy also estimates the nationwide average gas prices on July 4 will be lower than what prevailed on New Year's for the first time since it began to track prices. On an average year, January 1 prices would be higher than July 4 prices by 47 cents.
Typical American Spending Pattern
Data from the Bureau of Labor Statistics show that an average American household spent roughly 17 percent of his annual earnings on transportation in 2015, second only to housing cost, which accounted for 32.9 percent of the spending. Food, personal insurance and healthcare accounted for 12.5 percent, 11.3 percent and 7.5 percent of the spending, respectively.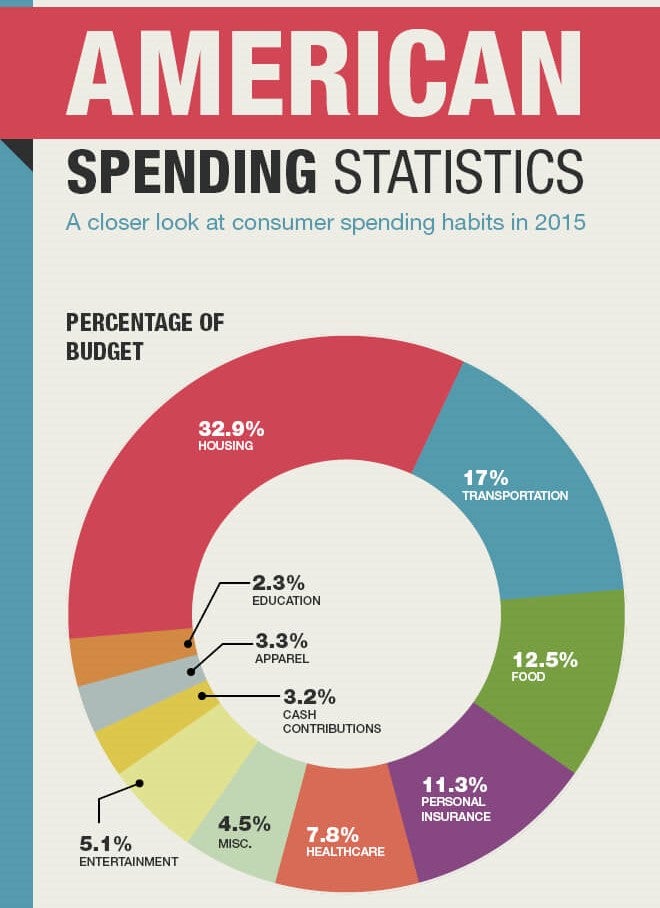 Source: Bureau of Labor Statistics
Breaking down transportation: 42 percent is spent on vehicles, 21 percent on gas and 37 percent on "other." This suggests that about 4 percent of the spending goes toward gas.
In 2015, when nationwide average gas prices averaged $2.40 a gallon, lower than $3.34 in 2014, consumers saved $115 billion on gas, according to Motor Trend, quoting AAA.
Meanwhile, EIA's estimates put the savings at $700 per household.
Households had the potential to save $630 at the pump in 2015, according to a research by the JPMorgan Chase Institute. The firm found that consumers spent 58 percent of the savings. The bulk of the savings-fueled spending or about $200 was channelized toward non-gas goods and services, primarily restaurants and retailers.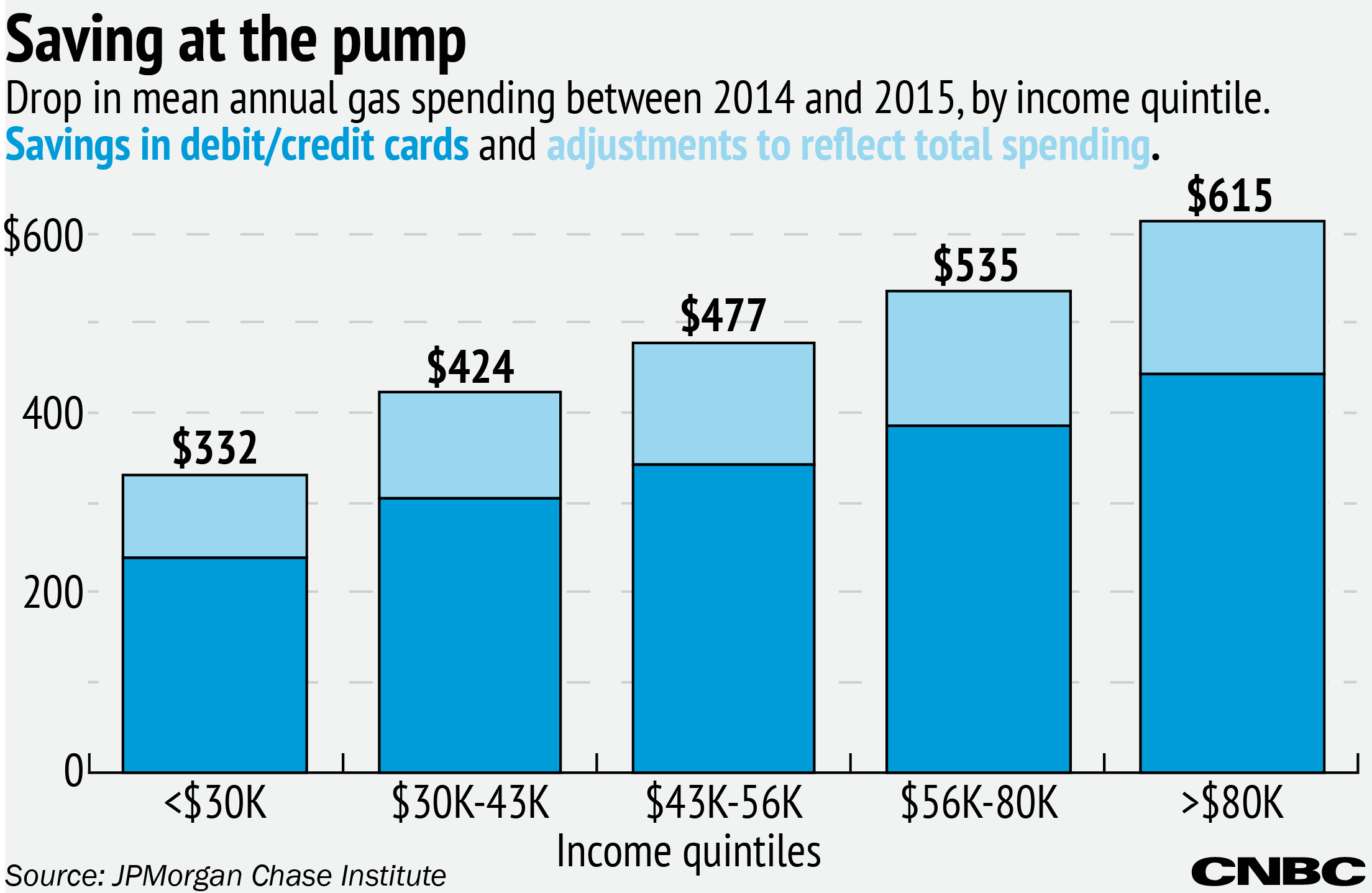 The report also found that lower gas prices led to changes in household transportation choices, leading to an incremental $150 spending at gas stations and less on transit.
The findings of the JPMorgan Chase Institute were based on a sample of 1 million Chase customers across 23 states.
Personal Savings Steady
However, given the unsteady nature of the economy, circumspect consumers might also prefer to save their savings. Personal savings rate, though off the December 2016 lows of 4.5 percent, is still not elevated.
The most recent report from the Bureau of Labor Statistics showed that personal savings rate has been steady at 5.3 percent in April, the same pace as in the previous two months, but lower than the 5.9 percent rate in April 2016.
Thus, lower gas prices are definitely a boon to consumers. From the economy's view point, this could be a positive, as the higher spending on non-fuel items will have a cyclical effect, boosting growth and employment.
Related News:
Mondays Are In Fact Good For Something: Gas Prices Are Usually Lower
Here's How Gas Prices Have Looked On The Last 5 Inauguration Days
View Comments and Join the Discussion!
Posted-In: 4th of JulyNews Education Commodities Travel Markets Trading Ideas General Best of Benzinga