Axon, Digital Ally Receive Extension From District Court To Hold Discussions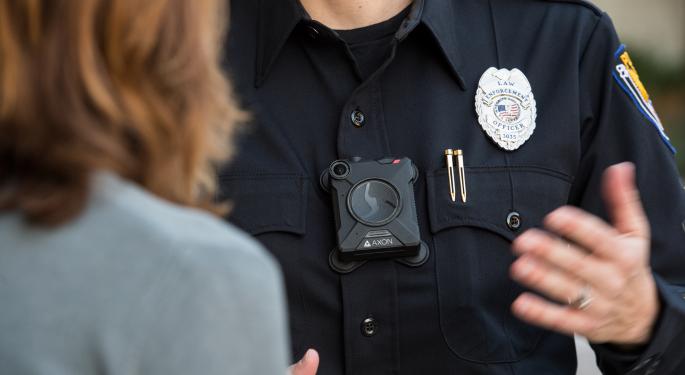 Could a resolution to the protracted saga of the patent litigation between Axon Enterprise Inc (NASDAQ: AAXN) and Digital Ally, Inc. (NASDAQ: DGLY) be in sight?
Digital Ally had previously said it expected for the United States Patent and Trademark Office (USPTO) to update the U.S. District Court of Kansas - which in March had issued a stay halting court proceedings - by Aug. 17. Following that update, the company expected the court to rule on the status of the stay.
What's New?
Benzinga asked Axon VP of Strategic Communications Steve Tuttle about the status of that court decision.
"The parties filed a status report with the court [Sunday] essentially asking for another week for discussions," Tuttle said Monday in an email.
There's been plenty of conjecture as to how the court case might play out in the event the USPTO failed to invalidate the patents, with everything from a settlement to speculation of a potential acquisition of Digital Ally by Axon being floated by analysts.
For its part, Axon stops short of describing just what those discussions might entail, or whether the stay will remain in place beyond next week.
"Nothing has been filed yet as to the parties' positions on this day," Tuttle said.
Digital Ally did not immediately respond to requests for comment.
Should I Stay Or Should I Go Now?
Digital Ally on Aug. 15 announced plans to "un-stay" its patent suit against Axon (formerly known as TASER International). The Kansas U.S. District Court had placed a stay on the proceedings while issues at the USPTO were hammered out.
At issue were petitions Axon filed to invalidate the patents Digital Ally claims Axon's products infringe upon. In early August, Digital Ally claimed victory when one of those patents was upheld by the USPTO. Digital Ally has dropped the other patent from its suit, believing it can achieve success with only the one. Axon has intimated it has more legal tools at its disposal, including a petition filed for a rehearing on the patent issue, a decision on which could take quite some time.
Axon shares traded higher by 1.4 percent Monday, while Digital Ally shares were 3.3 percent lower.
Related:
The Axon-Digital Ally Lawsuit May Not Proceed To Trial
Axon Seeks Continued Delay In Digital Ally Case With Another PTO Petition
View Comments and Join the Discussion!
Posted-In: United States Patent and Trademark Office USPTONews Legal Top Stories Exclusives After-Hours Center Trading Ideas Best of Benzinga