Axon Responds To Digital Ally's Patent Board Victory: 'This Process Is Far From Over'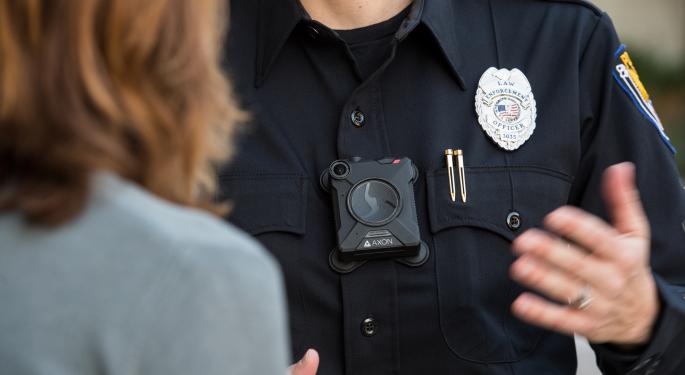 Friday morning saw the latest act play out in the ongoing legal drama between Axon Enterprise, Inc (NASDAQ: AAXN) and Digital Ally (NASDAQ: DGLY).
Digital Ally announced that the U.S. Patent and Trademark Office (USPTO) denied Axon's petition aimed at invalidating one of two Digital Ally patents the company claims Axon is infringing upon.
Though the same board recently ruled largely in Axon's favor with respect to the '292 Patent that formed the initial basis of the suit, this news virtually ensures that the case will proceed; A stay was granted earlier this year while the judge awaited the outcome of the Patent Office petitions. With the '452 Patent (which was subsequently added to the lawsuit) validated in Friday's decision, what remains to be seen is if a court will decide Axon is in willful infringement and assess damages.
Digital Ally CEO Stanton Ross in a statement said, "We look forward to restarting our patent infringement litigation."
Axon Responds
In an email to Benzinga, Axon spokesperson Sydney Siegmeth said, "While we are disappointed that the patent office has denied institution of Axon's petition for inter partes review on some claims of one of Digital Ally's two patents-in-suit, this process is far from over." Axon notes that invalidity proceedings have been instituted against the '292 Patent. "Moreover," Siegmeth continued, "Digital is simply wrong that this USPTO decision ends the validity challenge to the '452 patent."
Axon says Digital Ally has been sued for inequitable conduct before the USPTO, which could invalidate both patents, and Axon has also challenged the validity of this patent in District Court where considerations beyond those assessed by the USPTO are at play.
"Also," Siegmeth concludes, "Digital has a very difficult burden to prove infringement and the fact remains that Axon's Signal technology does not infringe Digital's patents. There are many more hurdles for Digital to overcome before any issue of damages could even be considered. Axon remains confident in our invalidity and non-infringement position."
The Odds Of Victory
According to Westpark Capital analyst Ishfaque Faruk, Digital Ally's chances of ultimately emerging victorious have improved.
"We have stated for a long time that a key catalyst for DGLY is its legal battle with Axon Enterprise," said Faruk in a note issued late Friday. Indeed, in a discussion with Benzinga back in March, Faruk said in the event Axon lost this suit, it would potentially need to consider making an acquisition play for its rival.
Still, this may read as bigger news for Digital Ally than its nemesis. Faruk told Benzinga at that time that, "On a relative basis, the impact on [Axon] is not as big."
Price action in both companies' respective shares bore that thesis out Friday.
Digital Ally shares spiked to a high of $4.95, before closing up 29 percent at $4.20.
Axon shares, after initially turning red, actually ended higher at $25.09.
The Road Ahead
Faruk, who partook in a conference call with Digital Ally Friday, foresees three outcomes for Axon.
The company could license the technology from Digital Ally, though on the conference call Faruk reports Ross suggesting he might pursue an exclusive deal with a partner other than Axon.
Axon could make a play to acquire Digital Ally. Despite the apparent acrimony between the companies, Faruk notes that given Axon's size it might "make economic sense" for the 'Goliath' in this space to simply buy 'David' out.
Finally, Faruk sees potential for Axon and Digital Ally to settle out of court, in which case Faruk says potential damages could be "very material" for Digital Ally.
With this win-win-win scenario in mind, Westpark upped its price target on Digital Ally shares from $9 to $11. Judging by today's price action, the market may agree with Faruk that this ruling is of limited consequence for Axon.
View Comments and Join the Discussion!
Posted-In: Ishfaque Faruk Sydney Siegmeth U.S. Patent and Trademark Office Westpark CapitalNews Legal Top Stories Exclusives Best of Benzinga