YogaWorks' Second Attempted IPO -- Here's What You Need To Know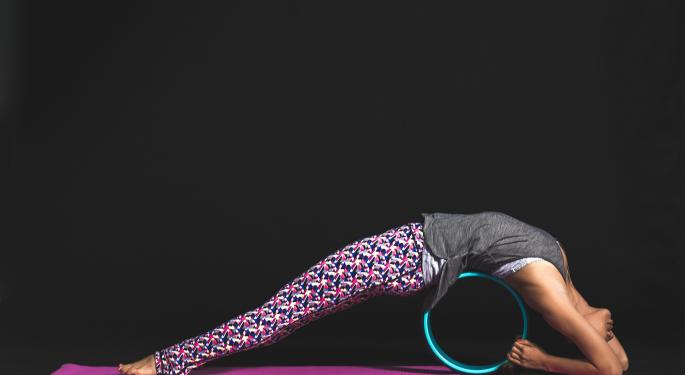 You don't have to know the difference between Downward Dog and Chaturanga to assess the investment opportunity of YogaWorks.
The 30-year-old chain filed for an initial public offering Thursday after having pulled its first attempt in mid-July. Round two will put up 7.3 million shares between $5.50 and $6.50, a significant adjustment from the previous price proposed between $12 and $14.
If you're thinking about buying in, here are some facts worth considering:
Market Share Potential
YogaWorks reported more than 225,000 practitioners and 2.9 million visits in 2016, with the latter representing a compound annual growth rate of 13.6 percent since 2012. The student profile is disproportionate of the Millennial generation, and about 80 percent are female.
With IBISWorld reporting about 37 million Americans practicing yoga in 2016 and Sports Club Advisors expecting expansion to 55.1 million in 2020, YogaWorks sees a big opportunity to expand its reach.
Acquisition-Based Growth
YogaWorks intends to monetize its brand through corporate relationships, retail offerings, licensing and digital content publishing. In 2016, its subscription-based service, MyYogaWorks.com, streamed nearly 700,000 classes to 18,000 users across 145 countries.
But its primary focus is in-studio classes. The company operates 50 studios across Los Angeles, Orange County, New York City, northern California, Boston and Baltimore/Washington, D.C., — 60 percent of which were gained through acquisitions.
YogaWorks' 49 studios at the end of 2016 represented a four-year CAGR of 19.5 percent, and through additional acquisitions, management hopes to penetrate the existing markets in nearly every U.S. city.
It plans to acquire more than 35 studios over the next 18 months, with a goal to expand to more than 250 in the "next several years." As yet, it has contacted more than 250 studio owners to discuss buyouts, issued letters of intent to acquire 13 studios and is in late-stage negotiations to acquire seven more.
"We believe we are ideally positioned to consolidate the highly fragmented yoga studio market," the S1 SEC filing read. "We plan to strengthen our presence in existing markets and selectively enter new markets predominantly by acquiring independently owned yoga studios. ... We believe that acquisitions of existing studios and their thriving student bases can be an effective, profitable and risk-mitigating way to enter a new regional market versus building a new studio and waiting for attendance to ramp up over time."
YogaWorks targets studios with annual revenues between $500,000 to $700,000, and it expects a return on invested capital within two to four years of opening a new studio. In 2015, it acquired 17 studios through the $12.2 million purchase of four chains, and the same studios brought in $11.7 million the following year.
Financials
Management reported net revenue of $55.1 million in 2016, representing a CAGR of 10.9 percent from 2012.
In the quarter ending June 30, the firm posted revenue between $12.3 million and $12.6 million — as much as 7.5 percent below the comparable quarter last year. The March quarter saw a 7.3 percent revenue decline with about $14 million.
However, the firm attributed the loss to the introduction of a new class package model in July 2016 that drove clients from monthly memberships. The more palatable consumer option generates more long-term revenue for YogaWorks.
YogaWorks will trade on the Nasdaq under the ticker YOGA. The stock opened at $5.50.
Related BZPro Headlines:
YogaWorks Shares Open For Trade At $5.50; IPO Priced At $5.50/Share
IPOS Expected Today From Ranger Energy Services (RNGR) and Yogaworks (YOGA)
Posted-In: IBISWorld MyYogaWorks.comNews Sports IPOs Movers Trading Ideas General Best of Benzinga
View Comments and Join the Discussion!