Activist Investor Urges Barnes & Noble To Sell, Argues $1 Billion Price Tag A 'Rounding Error' For Potential Buyers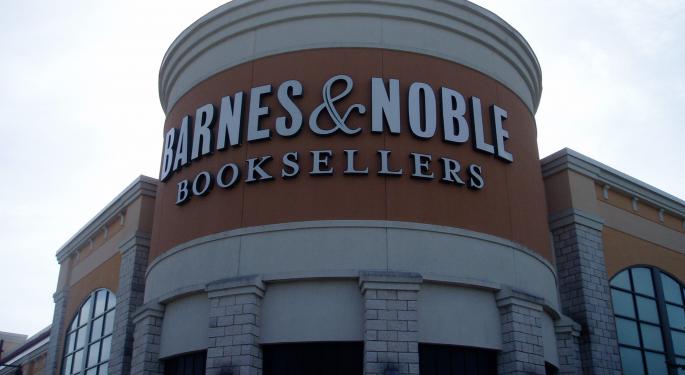 Shares of Barnes & Noble, Inc. (NYSE: BKS) gained more than 12 percent early Tuesday morning after activist investor Sandell Asset Management delivered a letter to the country's biggest specialty book retailer of which it is now a top 10 shareholder.
Many investors have been working under the assumption that the future of book sales doesn't include Barnes & Noble's 633 stores in a world where Amazon.com, Inc. (NASDAQ: AMZN) offers speedy delivery of books. While there may be some validity to this thinking the activist investor still believes that Barnes & Noble being valued at $520 million is "unconscionably low and fails to reflect the true value of the Company."
Editor's note, 12:30 p.m. ET: Barnes & Noble spokesperson Mary Ellen Keating told Benzinga in an email, "Neither Mr. Sandell nor anyone from his hedge fund has reached out to us yet, but, we welcome constructive dialogue with all of our shareholders."
The Math Behind The Stock
Barnes & Noble's enterprise value (consists of market value plus net debt) has fallen to around 3.2x fiscal 2018E EBITDA, Sandell said in its letter. This number is lower than almost every other publicly-traded retailer and this fact alone is "shocking" and makes the stock attractive.
Meanwhile, even in a world where Amazon dominates book sales and Barnes & Noble's book sales declines, the discounted value of the future stream of cash flows (also known as intrinsic value) would still "far exceed the current enterprise value of the Company."
Also, assuming Barnes & Noble were to be acquired at $1 billion, the price tag is essentially "a rounding error" for an internet or media giant looking to gain a retail space.
"It is our opinion that the public market for retail stocks is contributing to a risky and inhospitable environment under which the stock price of Barnes & Noble may not fairly reflect its intrinsic value anytime in the foreseeable future if it remains a stand-alone company," the letter added.
Finally, even if a purchase occurs at $12 per share, the acquiring company could still generate a five-year internal rate of return in excess of 20 percent.
Sandell Asset Management also made headlines earlier this year when it succeeded in pushing Bob Evans Farms Inc (NASDAQ: BOBE) to make the necessary changes to boost shareholder value. The company said in early 2017 it will divest its restaurant business to better focus on the more lucrative grocery category and pay investors a special dividend.
Related Links:
25 Stocks Moving In Tuesday's Pre-Market Session
Wall Street's M&A Chatter From July 24: WebMD, Rent-A-Center, Platform Specialty Product ________ Image Credit: By Chaplin62 - Own work, CC BY-SA 3.0, via Wikimedia Commons
View Comments and Join the Discussion!
Posted-In: Book Retailers books ecommerce Mary Ellen KeatingM&A News Exclusives Tech Best of Benzinga