Digital Ally Wins Critical PTO Ruling In Patent Lawsuit With Axon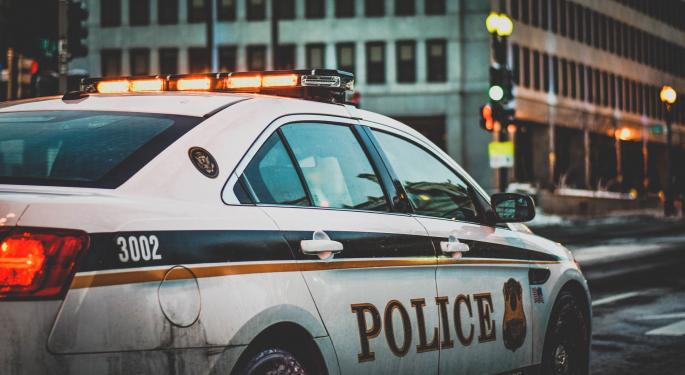 Digital Ally, Inc. (NASDAQ: DGLY) shares popped as much as 79 percent in Friday's pre-market session after the company reported "significant victory" in its legal battle with Axon Enterprise Inc (NASDAQ: AAXN).
The U.S. Patent and Trademark Office (PTO) denied Axon's petition for inter partes review (IPR) of Digital Ally's '452 patent, one of four IPRs Axon submitted in an attempt to invalidate Digital Ally's lawsuit. Axon received a favorable PTO ruling on the '292 patent, the original point of dispute, in June.
"[T]he information presented in the Petition does not establish a reasonable likelihood that would prevail in showing the unpatentability of any of the challenged claims on the grounds set forth in the Petition," the Patent Office claimed, according to Digital Ally's press release.
Axon is unable to submit additional IPRs for the '452 patent, as the one-year filing limit has reportedly expired.
The invention in question involves the automatic activation and coordination of police recording technology following a particular trigger event. A Digital Ally victory would require Axon to either license its rival's product or pursue a buyout.
Related Link: Analyst Sees 'Limited Impact' On Digital Ally From Axon's Free Body Cam Promotion
"The Patent Office's decision yet again confirms the strength and validity of Digital's patents, as well as the inadequacy of Axon's invalidity arguments," Digital Ally's release read. "With this loss, the Company believes that the practical availability of Axon's litigation defenses is now severely limited, principally leaving infringement and damages to be resolved."
Trial To Proceed
Axon had depended on a victory in the PTO to undermine the legal grounds of Digital's claims. The district court judge overseeing the case had granted a stay in the trial in March and subsequently vacated all litigation dates pending the PTO's decision.
Now, it seems, the trial will proceed on the '452 patent.
"We remain committed to defeating Axon's arguments and ultimately winning this lawsuit," Digital Ally CEO Stanton Ross said in the press release. "We look forward to restarting our patent infringement litigation in U.S. District Court against Axon [....] We will now take the necessary actions to move to a trial where a jury can finally end Axon's willful infringement and assess damages due to us."
At time of publication, Digital Ally shares were up 60 percent at $5.05 in pre-market trading, while Axon traded down 4.4 percent.
View Comments and Join the Discussion!
Posted-In: Patent and Trademark Office Patents PTONews Legal Movers Best of Benzinga