Axon Receives USPTO Rulings From 2 Of 4 Petitions Against Digital Ally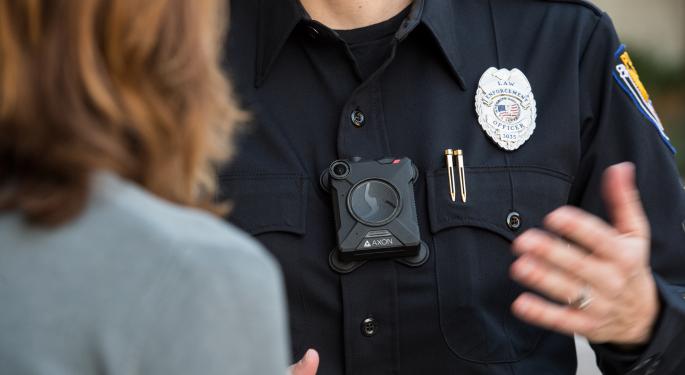 Axon Enterprise Inc (NASDAQ: AAXN) and Digital Ally, Inc. (NASDAQ: DGLY) are nearly four years into an ongoing patent dispute, and ambiguity over continued litigation is meant to be settled with rulings from the U.S. Patent and Trademark Office.
The district court judge overseeing the case had issued a stay and vacated future trial dates as Axon awaited the USPTO's decisions on four filed petitions. The judgments ultimately impact the validity of Digital Ally's claims and could result in dismissal.
So far, Axon has received responses for only two petitions, a company spokesperson said Wednesday.
"One petition was granted and the other was rejected, so the IPR [Inter Partes Review] challenge for the '292 patent is proceeding with the petition granted, and we believe we can prevail on this petition to invalidate Digital Ally's patent," Steve Tuttle, VP of strategic communication, told Benzinga.
The 292 patent was the original point of dispute. Digital Ally filed claims for 452 shortly after.
"Even though one petition was granted and one denied, the bottom line is that only one is necessary to invalidate the entire 292 patent," Tuttle said in an email. "It was granted on ALL challenged claims."
The PTAB deadline on 452 patent claim 10 IPR petition is July 11, 2017, Tuttle said. The final one won't be ruled on until August, which relates to Claim 1 of the 452 patent.
"If the PTAB invalidates the patents based on the IPRs, the litigation is over," Tuttle said. "Because the one IRP institution on the 292 patent was granted on ALL claims, the denial of the other petition on the same patent is irrelevant."
The Phazzer Story
Axon is engaged in a similar legal battle with PhaZZer Electronics, Inc. and recently celebrated favorable rulings. The firm anticipates continued success going forward.
"This is Phazzer's second attempt to invalidate Axon's patent and avoid infringement liability through reexamination proceedings in the USPTO," a spokesperson said. "Phazzer's first attempt failed when the patent office reconfirmed the patent's validity in mid-March 2017 with only a slight modification to one of four independent claims. Phazzer's second reexam effort citing second tier prior art will fare no better."
Taylor Cox contributed reporting.
Related Links:
Analyst Sees 'Limited Impact' On Digital Ally From Axon's Free Body Cam Promotion
Analyst: Body-Cam Patent Suit Win Would Be A Big Deal For Digital Ally, Not So Much For Taser
View Comments and Join the Discussion!
Posted-In: PhaZZer PhaZZer Electronics U.S. Patent and Trademark OfficeNews Legal Exclusives After-Hours Center Best of Benzinga