Welcome To Sesame Street, Julia! You're In Good Company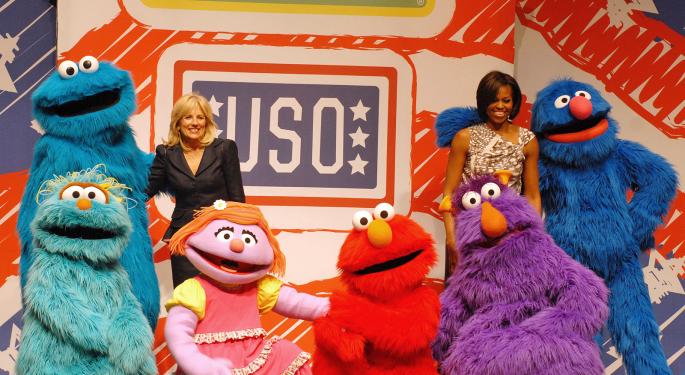 The hit Time Warner Inc (NYSE: TWX) and PBS children's show "Sesame Street" is once again breaking ground with its theme of inclusivity by introducing a new character named Julia to its TV audience. Julia will be the first "Sesame Street" character who has autism.
"Sesame Street" has gained a reputation for introducing children to difficult real-life issues by dealing with them openly on the show over the years.
7 Ground-Breaking Characters Who Preceded Julia
Here's a look at seven other ground-breaking characters "Sesame Street" has introduced throughout the years.
1. Linda the Librarian (1972)
Linda the Librarian (played by Linda Bove) introduced children to both deafness and the use of sign language.
2. Rosita (1991)
Mexican immigration has become a hot-button topic among American adults in recent years, but "Sesame Street" introduced children to the bilingual Rosita way back in 1991. Rosita taught viewers a Spanish word of the day.
3. Tarah (1993)
The "Sesame Street" character Tarah (played by Tara Schaeffer) had osteogenesis imperfect, which required her to use a wheelchair. Tarah taught viewers about wheelchair accessibility and demonstrated wheelchair exercises and even a wheelchair ballet.
4. Kami (2003)
Kami was the first HIV-positive "Sesame Street" character. She taught kids about how HIV is (and isn't) transmitted and how to cope with grief following the death of a loved one.
5. Segi (2010)
Segi sang a song in 2010 called "I Love My Hair" that encouraged African Americans and children of other ethnicities to embrace the fact that their physical characteristics may be different than those of their Barbie dolls.
6. Alex (2013)
Alex's father was incarcerated, and his character has helped children understand complicated topics such as bullying, divorce and single-parent households.
7. Zari (2016)
Zari was the first "Sesame Street" muppet of Afghan descent, and her character has helped shed light on the issue of women's' rights in Afghanistan and elsewhere.

Related Links:
SNL's 7 Best 'Weekend Update' Skits
_______
Image Credit: By Elaine Sanchez - This Image was released by the United States Department of Defense with the ID 110414-D-9994-364 (next).This tag does not indicate the copyright status of the attached work. A normal copyright tag is still required.http://www.defense.gov/photoessays/photoessayss.aspx?id=2137, Public Domain, via Wikimedia Commons
View Comments and Join the Discussion!
Posted-In: HBO PBS Sesame StreetNews Education Psychology Media General Best of Benzinga