Congress Has A Month To Roll Back Obama-Era Legislation; What Remains On The Chopping Block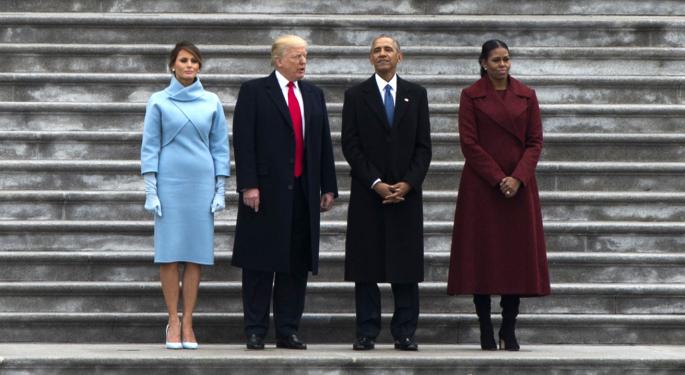 Congress has roughly one more month to take advantage of the rarely-used Congressional Review Act (CRA) to repeal any laws former President Barack Obama implemented shortly before his White House exit. Under the CRA, the president and Congress have 60 legislative days after a new rule is first implemented to repeal that rule with a simple majority vote in both the House and the Senate. Since the CRA was passed in 1996, it had only been used one other time prior to this year.
Trump And The CRA
President Donald Trump and Congress have already used their CRA authority to eliminate several Obama administration regulations. Among the 11 regulations Trump has already repealed via the CRA are a ban on hunting bears from airplanes in Alaska, a ban on selling firearms to mentally ill Americans and a ban on internet service providers (ISPs) collecting and selling customer data such as internet browsing history to advertisers.
"CRA resolutions are payback to the corporate class that elected Republicans to Congress and are designed to roll back measures that have overwhelming public support," Public Citizen Vice President Lisa Gilbert said.
While it has been well more than 60 days since Trump took office, the CRA window extends to 60 legislative days, meaning Trump and Congress have roughly one more month to repeal qualifying Obama-era rules.
According to congressional Republicans, the most likely rule to be repealed is a rule requiring companies to locate and repair methane gas leaks in pipelines, equipment and wells.
What's Next?
In addition, Congress could act on any of four other CRA-qualified rules already introduced in both chambers as well:
A rule preventing coal companies from selling coal obtained from public land to subsidiaries at artificially depressed prices.
A chemical safety rule aimed at preventing catastrophes at chemical facilities and informing the public of chemical-related risks.
A rule aimed at improving fee transparency, increasing fraud prevention and limiting overdraft fees associated with prepaid credit cards.
A rule protecting clear and clean air in Utah national parks.
Trump's Theory On Corporate Regulations
Throughout the campaign season, Trump argued corporate regulations such as the ones described above place an unnecessary burden on U.S. corporations.
Since Trump was elected, investors have certainly gained confidence in U.S. stocks. The SPDR S&P 500 ETF Trust (NYSE: SPY) is now up 10.1 percent since November 8.
Related Links:
Gary Cohn, Trump's Top Economic Adviser, Supports Split Of Lending And Investment Banks
'Trump Bump' Continues In Media In Spite Of Presidential Criticism
_________
Image Credit: By Air Force Staff Sgt. Sean Martin [Public domain], via Wikimedia Commons
Posted-In: Barack Obama Congressional Review ActNews Education Politics Legal Movers General Best of Benzinga
View Comments and Join the Discussion!