The Economics Of Peacekeeping: UN Unit Faces Budget Cuts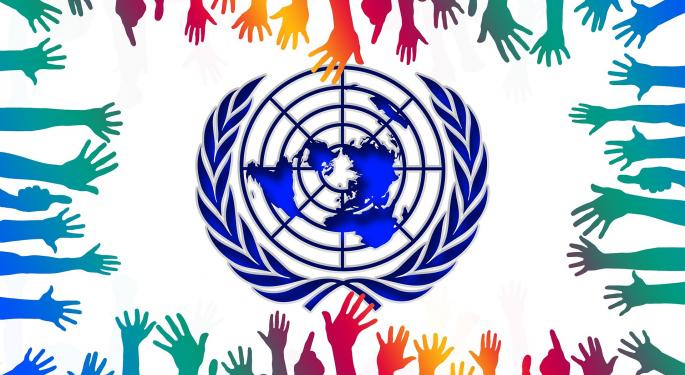 Since the United Nations Security Council first developed its peacekeeping unit in 1948, more than 120 countries have participated in 69 total peacekeeping missions. Operations have accelerated in recent years, with 56 deployed since 1988, but the rate is expected to slow — both organically and inorganically.
The U.N. under-secretary general for peacekeeping operations announced Friday that three of 16 active operations are expected to end naturally in the coming year, even as other missions are threatened by U.S. funding cuts.
American Ambassador to the U.N. Nikki Haley wrote to fellow members of the Security Council this month urging them to evaluate each of the present operations, determine whether they are still "fit for purpose" and abandon mandates that "no longer match political realities."
Additionally, the U.S. advocated Tuesday for a decrease in U.N. troops and maintenance of police units — against the advice of the U.N. Secretary General — in the Democratic Republic of Congo.
What's There To Lose?
Peacekeepers not only provide security in conflict-shaken zones but support political processes, reform judicial systems, train local law enforcement and assist in the resettlement of refugees.
Additionally, the peacekeepers lend stability in areas of American interest, such various sites on the State Department travel warning list, and South Sudan, where the U.S. recently deployed troops to protect foreign service officers.
The U.S. economy also has stakes in U.N. operations. According to the New York Times Co (NYSE: NYT), American companies secured $1.6 billion — the most of any nation — in goods and services contracts for 2015 peacekeeping efforts.
And the federal investment in peacekeeping — about $2.25 billion — isn't significantly burdensome. As the Times reported, the sum amounts to two B-2 bombers, just one-tenth of the Air Force fleet.
The Price Of Peace
But for many, peacekeeping is an expensive endeavor.
For the 2016–2017 season, the U.N. Security Council invested $7.87 billion — representing a $400-million annual decrease — on 14 global operations. The U.N. regular budget financed additional missions for military observation in India and Pakistan as well as general truce supervision.
The Charter of the United Nations requires every member state to contribute to the peacekeeping fund, and the demanded portion depends on factors such as relative economic wealth and permanent membership to the Security Council. Of the total budget, the U.S. contributed the most of any country (about 28.6 percent) followed by China (10.3 percent), Japan (9.7 percent), Germany (6.4 percent) and France (6.3 percent).
Some volunteer additional financial and human capital beyond what is required.
Their contributions cover military and civilian personnel payment, transportation, consultations, information technology and medical operations. Member states supplying troops — of which the U.S. contributes fewer than 70 — are reimbursed $1,332 per person per month.
Or By Another Measure...
For some, the cost is higher. In the last 69 years, 3,326 peacekeepers paid for the service in blood.
As of February, the workforce comprised 82,059 troops and 9,787 police from 127 countries; 9,474 local civilians; 4,784 international civilians; and 1,470 U.N. volunteers.
Related Links:
Immigration Through Investment: America's Golden Ticket Visa Faces Renewed Challenges
Israel Uses Advanced Outer-Space Missile Produced With Boeing
Posted-In: Nikki Haley U.N. Security CouncilNews Education Eurozone Markets Media General Best of Benzinga
View Comments and Join the Discussion!