Disney Could Be In Some Serious Legal Trouble Over 'Zootopia'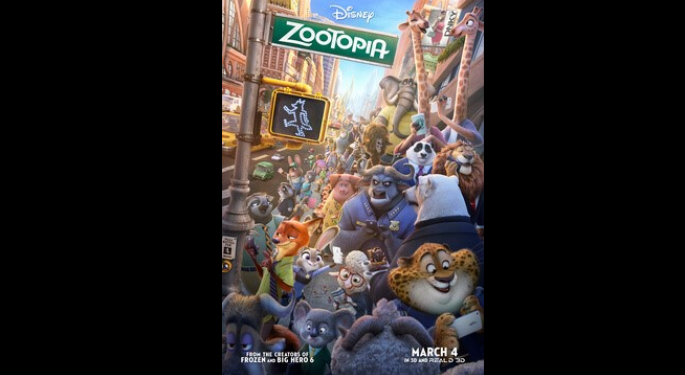 A screenwriter and producer who contends Walt Disney Co (NYSE: DIS) stole his idea for the hit movie "Zootopia" has a case that seems far stronger than the usual claims made against Hollywood, an entertainment analyst said.
The Lawsuit
Gary L. Goldman, whose credits include the writing for "Total Recall" and producing "Minority Report," is the principal accuser in a lawsuit filed Tuesday by Esplanade Productions, Inc. in a California federal court, according to the Hollywood Reporter.
Entertainment lawyer Darren Heitner said Goldman's credentials and position in Hollywood go beyond the usual claims of idea theft.
"You often do see writers making claims that their ideas are being stolen," he told Benzinga. "But what's different is [the lawsuit] is from somebody who has credits under his belt. The level of detail and the level of sophistication of the claims really separates this case."
Esplanade Productions is being represented by prominent law firm, Quinn Emanuel.
The Hollywood Reporter cited the opening of the lawsuit as being a quote from "Zootopia" director Byron Howard: "Don't worry if you feel like you're copying something, because if it comes through you, it's going to filter through you and you're going to bring your own unique perspective to it."
Disney's 'History' Of Idea Poaching
The trade journal said that in the lawsuit, Disney is alleged to have poached work that includes "The Lion King," "Toy Story," "Inside Out" and "Up."
"They did it with Zootopia, too, when they copied Gary L. Goldman's Zootopia," states the complaint. "Twice — in 2000 and 2009 — Goldman, on behalf of Esplanade, pitched Defendants his Zootopia franchise, which included a live-action component called Looney and an animated component called Zootopia. He provided a treatment, a synopsis, character descriptions, character illustrations and other materials. He even provided a title for the franchise: 'Zootopia.'"
"Zootopia," which opened in the spring of 2016 and had a 154-day in-theater run, brought in $341,268,248 (domestic total gross box office).
Related Links:
Disney's 'Zootopia' Could Be Biggest Animated Film Ever
$15,000 'Zootopia' LEGO Display Ruined By 5 Year Old
________
Image Credit: Fair use, via Wikimedia Commons
View Comments and Join the Discussion!
Posted-In: Byron Howard Darren Heitner Esplanade ProductionsNews Legal Media Interview General Best of Benzinga