Hot Stocks Among Shorts: Department Stores Remain In Focus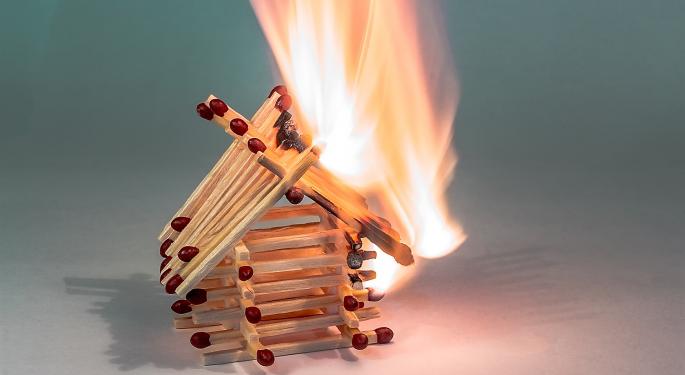 FIS Astec Analytics' released its latest list of the hottest stocks among short sellers, which contains five of the six same names as last week's report.
Top Pick: JC Penney
Troubled department store J C Penney Company Inc (NYSE: JCP) is the only new name included in the latest report. The inclusion of the company comes at a time when it is closing more than 100 stores amid heightened competition.
Shares of JC Penney have fallen around 50 percent and closed last week at $5.99, which marks the stock's lowest levels since 2014. Meanwhile, short sellers have been boosting their positions by 93 percent since the start of 2017 and short sellers now account for 69 percent of the available supply.
Since short sellers are sitting on large unrealized gains, investors can afford to hold on to their position and wait it out for further losses.
1. Sirius XM Holdings
Satellite radio provider Sirius XM Holdings Inc. (NASDAQ: SIRI) moved up from fourth spot in last week's report to No. 1 and comes at a time when the stock is trading at multi-year highs.
Last week short interest slightly fell and was down 1 percent by volume and down less than 1 percent as a percentage of the supply but still stands at over 96 percent. However, the rising borrowing cost could deter short sellers in the longer term; however, for the time being, demand to borrow shares remains very strong, which may indicate that the stock's momentum cannot be sustained.
2. Frontier Communications
Moving up one spot from last week's report is Frontier Communications Corp (NASDAQ: FTR) even though the stock lost 7.5 percent last week to close at $2.47. But short sellers closed out just over 5 percent of their positions and as a proportion of the available supply, short interest rose 1 percent.
Investors on the long side were also likely closing their positions as well last week, but a bull versus bear battle could take place over the next few weeks and determine which side is right in reducing their exposure to the stock.
3. GoPro
GoPro Inc (NASDAQ: GPRO) is no stranger to the hot stocks list and moved down two spots from last week's report. Shares of the action camera and drone maker improved from its record lows after a headcount reduction announcement sparked a rally. Nevertheless, 97.5 percent of the available shares remain borrowed, which implies that the expectations among short sellers remain unchanged that further declines can be expected.
4. Sears Holdings
Sears Holdings Corp (NASDAQ: SHLD) is also no stranger to the hot stocks list although its rankings improved one spot from last week's report. In fact, short sellers closed 5 percent of their open positions last week. At the same time, long investors may have also piled into the stock, which has bounced back from its lows of $5.50. Also, short interest as a percentage of available shares fell 10 percent.
If the troubled retailer is able to reverse its fortunes, there could be further gains in the stock.
5. Snap
After ranking as the top pick in last week's report, Snap Inc (NYSE: SNAP) closes out the top five list this week.
Short selling volumes stand at triple the levels, which was seen on its first trading day, but as a proportion of the shares available, short interest stands just slightly above 50 percent. Meanwhile, demand volumes are no longer stressing the supply side as more shares are made available, which helped drive borrowing costs lower.
Nevertheless, short sellers are now finding it more attractive to maintain their open positions on the chance that further declines could be seen in the stock.
Related Links:
PreMarket Prep Recap, March 21: We Haven't Seen A 2% Correction Since The Election
View Comments and Join the Discussion!
Posted-In: FIS Aster Analytics hot stocks Hot Stocks To ShortNews Short Ideas Movers Media Trading Ideas Best of Benzinga