Apple Progress Report: Here's Where The Initiatives Steve Jobs Planned Stand Now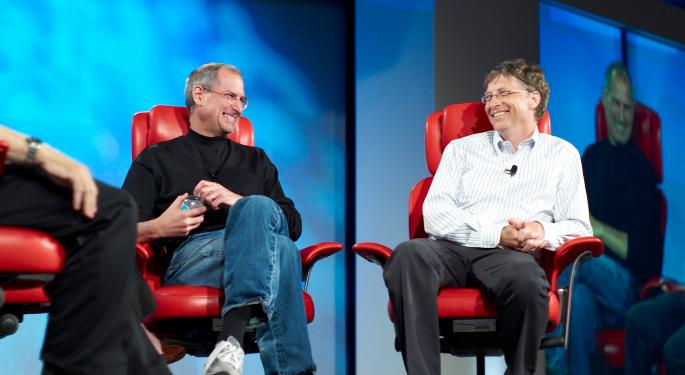 Apple Inc. (NASDAQ: AAPL)'s iconic founder, the late Steve Jobs, was a visionary par excellence, a trailblazer, a thought leader, a great inventor, an excellent communicator, a marketing genius — one who changed the way we learn, communicate and listen to music. Just like the Bible vests on King Solomon the privilege of possessing wisdom such as no one else has had, or ever will have, there will never have been anyone, nor will there ever be one akin to the one and only Steve Jobs.
The man would have celebrated his 62nd birthday last week, were he still alive and had the world not lost him to pancreatic cancer on October 5, 2011. Some of the breakthrough innovations Apple, his brainchild, came out with included the Macintosh (in 1984), the iPod (in 2001) and the iPhone (in 20007) — all possessing disruptive powers.
Despite his death, has Apple followed his visions? Did the company, which was close to his heart, pick up the threads of Jobs' visionary leadership? Did Jobs leave behind any unfinished agenda?
Related Link: Why Rehiring Steve Jobs Was The Best Move Apple Ever Made?
1. Ready For Countdown — Spaceship Headquarters
Though not related to products and technology, this one project was special to Jobs' innovative spirit, as he envisioned it as a center for creativity and collaboration. Just four months before his death, Jobs himself elaborated on the intended campus in a Cupertino City Council Meeting. This one is related to Apple's new futuristic Silicon Valley spaceship campus in the works. The new campus would be ready for occupation by April.
To honor its celebrated founder, a theater on the new 175-acre Apple Park campus was named after him. The campus, a ring-shaped building clad in giant panels of curved glass, blends workspaces and parkland, and it is powered entirely by renewable energy. It houses a fitness center, foot paths, research labs, a visitors center and an orchard.
Accentuating Apple's obsession with designs, Apple chief design officer Jony Ive said, "We have approached the design, engineering and making of our new campus with the same enthusiasm and design principles that characterize our products."
2. iPhone 5 — The Last Project Jobs Worked On?
Apple's fifth-generation iPhone, the iPhone 4s, was unveiled on October 4, 2011, a day before Jobs passed away. It is believed that the next iteration of iPhone, the iPhone 5, was under development even when Jobs was alive, and it was the last project he worked on.
Ashok Kumar, an analyst at Rodman & Renshaw, said then Jobs was intimately involved with, and Kumar touted it as Job's lasting legacy. Given Jobs' involvement from concept to final design, Kumar had speculated ahead of the launch that the iPhone 5 would be a cult classic and will have a slimmer profile and large screen size.
This was later confirmed through an interview given by Masayoshi Son, the CEO of SoftBank, when he quoted Tim Cook as saying on October 4, 2011, that Jobs was calling the second-in-command to talk about their next product.
Deeply touched by Job's commitment, Masayoshi said: "Even one day before he passed away, the first subject he wanted to call Tim Cook about [...] he wanted to talk about the next product [...] That's the kind of spirit a true entrepreneur would continue to have until they die. He was very sick, very ill. But the announcement of their newest product made him live longer. Physically he could have died much earlier. But his passion, his love for his own company and dream, about the next products, that made him energized."
Apple went on to unveil the iPhone 5 at a press event on September 2012 and released it on 21st of the same month. True to expectations, it was a radically reformed product with an aluminum-based body, which was thinner and lighter, a taller screen, the Apple A6 system-on-chip, LTE support and Lightning, a new compact dock connector.
As far as reception, it received over 2 million pre-orders within 24 hours of its launch, the rate of pre-orders 20-times faster than its predecessors. Following the launch of the iPhone 5s and iPhone 5c, the iPhone 5 was discontinued on September 10, 2013. Going by iPhone sales statistics released by Statista, Apple shipped roughly 275 million units in 2012 and 2013, with the bulk of them being iPhone 5.
Recently at a fireside chat at the University of Glasgow, Apple CEO Cook said: "Steve's DNA will always be the core of Apple. Steve is deeply embedded in the company. We celebrate him and we celebrate his philosophy. His philosophy will be at Apple 100 years from now. The philosophy is sort of passed down with every generation. Yes, he's very much at Apple."
This best sums up Jobs' influence on a company he founded, nurtured, stood by even amid an ouster from the company and stuck with until his last breath.
Image Credit: Steve Jobs with Bill Gates, By Joi Ito from Inbamura, Japan - Steve Jobs and Bill Gates on Flickr, CC BY 2.0, via Wikimedia Commons
View Comments and Join the Discussion!
Posted-In: Ashok Kumar iPhone 5 Johny Ive Masayoshi SonEducation Top Stories Tech General Best of Benzinga