Colbert Rises, Fallon Falls In The Early Days Of President Trump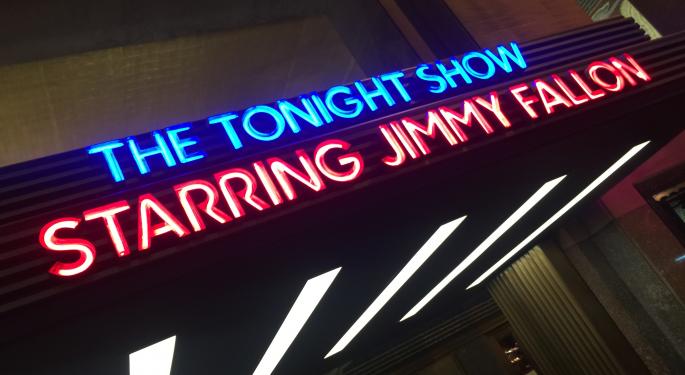 For about three years, Jimmy Fallon dominated late-night ratings with his gig on NBC's "Tonight Show." Fallon and ABC's Jimmy Kimmel entertained a strong cohort of politically diverse viewers with light and relatively neutral segments, while CBS Corporation (NYSE: CBS)'s Stephen Colbert alienated conservatives with critical, left-leaning satire.
Now, in the age of President Donald Trump and extreme political polarization, Colbert's "Late NIght" is on top, and the innocuous goofballs have fallen to the wayside.
While "The Late Night" host takes sharp and unrestrained jabs at controversial political figures, Fallon entertains guest celebrities with "Two Truths and an Alternative Fact" — and viewers just aren't interested.
When Fallon does engage the news and dips his toes in the muddy puddle of politics, he garners criticism for his lighter, more playful parodies and failure to puncture the premises underlying social issues. Some have described his bits — including signature impressions of Trump — as "vapid," "silly" and "superficial." In other words, he isn't as edgy as viewers would like.
As noted by Bloomberg, the "Tonight Show" audience has dropped 17 percent in the season/year-to-date period, while the "Late Show" audience has jumped 6 percent.
A Different Brand Of Comedy
While Fallon was unprepared for the present political climate, Colbert was poised to capitalize. The very sharpness that isolated audiences and sunk ratings in 2015 have appealed to viewers since the election.
For the third week in a row, after more than two years at the bottom of late-night ratings, Colbert has drawn audiences seeking biting satire and keen news analyses rather than Fallon-esque escapism.
He's not the only one who has seen a recent ratings bump.
"Saturday Night Live" viewership has soared since November, Time Warner Inc (NYSE: TWX)'s HBO has seen ratings peaks for "Real Time with Bill Maher," and "The Daily Show with Trevor Noah" has boosted figures on Viacom, Inc. (NASDAQ: VIAB)'s Comedy Central.
The shows' common theme: a willingness to pillory contemporary views and their champions.
If Comcast Corporation (NASDAQ: CMCSA)'s NBC and Walt Disney Co (NYSE: DIS)'s ABC want to compete in late-night ratings, the Jimmys will need to get a little sharper and, perhaps, a little meaner.
Image: Edgar Zuniga, Jr., Flickr
View Comments and Join the Discussion!
Posted-In: ABC CBS Comedy Central Donald TrumpNews Politics Media General Best of Benzinga