Game Changer: Taser Adds The Power Of A.I. To Platform With New Acquisitions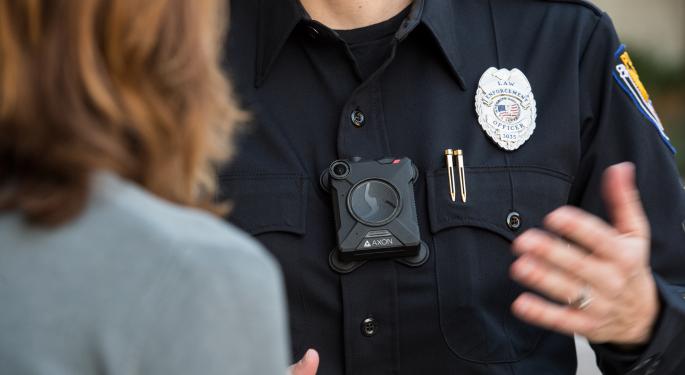 TASER International, Inc (NASDAQ: TASR) announced two acquisitions on Thursday: Dextro Inc and the computer vision team formerly belonging to Fossil Group, Inc (NASDAQ: FOSL) - to form a new artificial intelligence (A.I.) group called "Axon AI."
Taser CEO Rick Smith told Benzinga, "This is a game changer."
The Benefit Of A.I.
Dextro, the first computer-vision and deep learnings system to make the visual contents of a video searchable in real-time, is meant to eventually allow Taser platform users to search for specific items. This means being able to type "police car," "weapon" or "person running" into a search bar and get results, as long as the item is recognizable in the field of view.
Together with the computer vision team acquired from Fossil, Taser sees its platform impacting every customer interaction with the communities they police and increasing transparency. In a market notorious for its lawsuits and rivalries over contracts, Taser hopes this acquisition will quell market concerns over its ability to combat increased competition.
Lightening The Workload
Smith says at present, police spend two-thirds of their time on data entry and tasks like redacting police video to comply with privacy rules. For example, one hour of video footage takes eight hours to redact. Taser will use A.I. to speed up redaction so that police videos can be reviewed and ultimately released faster.
"By the end of the year we think we can get that down to 90 minutes," Smith said. "This is a sleeping giant."
Smith hopes that by eliminating the tripling of an officer's workload due to paperwork, "It will lead to cost savings and better police work. In five years police reports won't be written anymore, they'll be recorded."
Terms of the offer weren't disclosed, but may find their way into the company's upcoming Q4 report, the date of which hasn't yet been announced.
Posted-In: AI artificial intelligenceM&A News Top Stories Exclusives Tech Interview Best of Benzinga
View Comments and Join the Discussion!