Taser Stands To Benefit As Police Departments Using Competitor Report Equipment Failures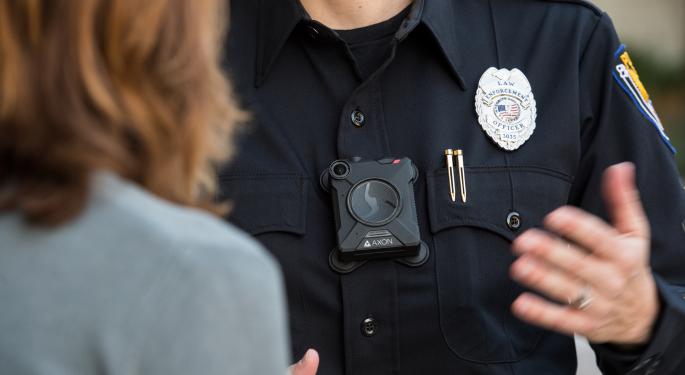 Police departments from across the country are having apprehensions about body camera manufacturer and TASER International, Inc. (NASDAQ: TASR) competitor VieVu.
A report from DNA Info on Friday, both Ohio's Chillicothe Police Department and the Phoenix Police Department have decided to stop using VieVu's cameras, while the head of Miami-Dade's police union has raised concerns over the cameras' reliability.
Update: The Chillicothe Police Department purchased VieVu equipment from a third-party vendor that has no affiliation with VieVu and installed its own software on VieVu devices. Phoenix recommended VieVu for the recent RFP. The RFP was reopened late last month, and VieVu is awaiting a final decision.
All this could represent an opportunity for Taser.
Taser CEO Rick Smith recently told Benzinga his company has been contacted by a number of departments who have been dissatisfied with competitor products; aside from VieVu, Taser also competes with Digital Ally, Inc. (NASDAQ: DGLY). Smith mentioned Dallas and Atlanta, adding that there are a couple of departments "in the news right now that we're in deep discussion with."
A Second Chance?
Taser investors will no doubt hope Smith is alluding to the New York Police Department contract Taser failed to secure back in September - a $6.4 million contract to equip NYPD officers with body cams that went to VieVu.
Taser protested the decision at the time, joined by other critics who cited a study by the Cincinnati Police Department that found VieVu's LE4 body camera to have problems including battery life and field of vision.
On Friday, it was reported the New York City Comptroller has blocked the VieVu body cam contract, though specifics as to the cause weren't divulged. The NYPD didn't respond to requests for comment.
Update: On Monday, New York City Mayor Bill De Blasio blasted Taser for a "smear campaign." The Comptroller raised procedural questions, but the contract is moving forward.
Changing The Process
For Taser's part, Smith believes the issue stems from an outdated procurement process. Rather than applying what's referred to as agile procurement, police department contracts are most often still granted based on a bureaucratic request for procurement process.
This means contracts are often granted without prior field testing of the equipment; indeed, back in September the NYPD told Benzinga it wouldn't be field-testing any of the cameras as it chose between VieVu and Taser. Field tests would presumably expose any faults with equipment before a city undertakes the time and expense of a deployment to its police force.
Instead of energy going into creating a great product, suppliers are getting good at creating excellent proposals, Smith commented.
Taser recently won a contract to supply Louisiana State troopers with body cameras, the first state-wide contract of its kind. State troopers are typically more interested in dash cams than body cams, a need Taser hopes to fill when its new Axon Fleet offering begins shipping in March.
Posted-In: body camsLong Ideas Contracts Top Stories Exclusives Tech Trading Ideas Interview Best of Benzinga
View Comments and Join the Discussion!