Delta Cancellations Vs. Trump Protests: Which Caused More Of A Headache?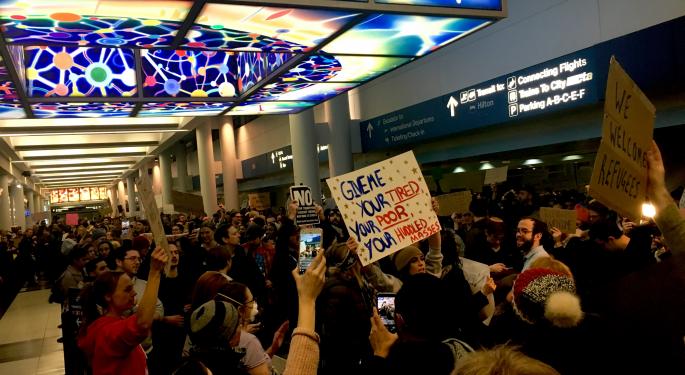 President Donald Trump is wrecking the airspace after some of his earth-shattering announcements shook the standings of several companies and governments.
The Travel Ban
Trump issued an Executive Order last Friday imposing a freeze on refuge admissions from Syria, a 120-day ban on refugee admission from other locations and a 90-day ban on travel from seven Muslim-majority countries, namely Iran, Iraq, Libya, Somalia, Sudan, Syria and Yemen.
Chaos All Around
The ensuing development had chaos written all over it. Last Friday and Saturday, over 100 people were detained at airports. However, the detainees were released later after a federal judge temporarily stayed the order.
At points of entry, such as the airports and sea ports, confusion prevailed. People who had flown into the United States were held at major airports, and others boarding flights overseas to move into the United States were yanked off planes. The affected parties, included pre-approved refugees, students and workers holding visas and residency green cards.
On Sunday, people took to streets to protest against this order, as protestors gathered by the thousands in cities and airports across the country. Trump, meanwhile, was quick to reassure that the current executive order was not a Muslim ban, as many claimed.
Shifting The Blame
In defense of his stance, Trump tweeted, "Only 109 people out of 325,000 were detained and held for questioning. Big problems at airports were caused by Delta Air Lines, Inc. (NYSE: DAL)'s computer outage."
Only 109 people out of 325,000 were detained and held for questioning. Big problems at airports were caused by Delta computer outage,.....

— Donald J. Trump (@realDonaldTrump) January 30, 2017
protesters and the tears of Senator Schumer. Secretary Kelly said that all is going well with very few problems. MAKE AMERICA SAFE AGAIN!

— Donald J. Trump (@realDonaldTrump) January 30, 2017
Additionally, Trump attributed the chaos to the protestors and Democrat lawmaker Chuck Schumer's emotional response. In a press conference in New York, Schumer termed the order as mean-spirited and unAmerican.
Nancy Pelosi and Fake Tears Chuck Schumer held a rally at the steps of The Supreme Court and mic did not work (a mess)-just like Dem party!

— Donald J. Trump (@realDonaldTrump) January 31, 2017
Delta's Outage
Delta suffered a technical glitch on Sunday, which led to cancellation of 170 domestic flights across the country and the delay and cancellation of flights at Minneapolis-St. Paul International Airport. Updating on the developments, the company said in its website that 110 flights were cancelled Monday, with a few additional cancellations possible.
Big Outages In Recent Past
Trump's assertion may not be accurate, as the number of flight cancellation with the recent computer outage is far less than some of the past occurrences. In August 2016, Delta had to cancel 2,300 flights after a power outage in Atlanta on August 8. The company had said then it took a $100 million hit to its revenue on account of the glitch.
In July 2016, Southwest Airlines Co (NYSE: LUV) reported of a system-wide outage due to a faulty router, with the outage resulting in cancellation of 2,300 flights. The outage was fixed in 12 hours, but not before throwing the entire operations over the next several days into disarray.
Trump's claim that the chaos and commotion seen at airports this week has to do with Delta's outage seems to be without merit. Delta's outage occurred only after trouble brewed at airports on account of the executive order banning refugees and people from seven predominantly Muslim nations. Additionally, Delta's most recent outage was not massive enough to warrant an attribution by Trump, although it could have more to do with the shifting blame syndrome plaguing the president.
Stock Reaction
Delta shares were down 4.06 percent at $47.68 at the time of writing. Other airline stocks also took a beating.
The NYSE ARCA AIRLINE INDEX (XAL) was down 1.92 percent at 108.32.
iShares Dow Jones Transport. Avg. (ETF) (NYSE: IYT) was slipping 1.33 percent to 167.77.
SPDR Series Trust (NYSE: XTN) was receding 1.19 percent to 54.97.
Image Credit: "Protests at O'Hare against Donald Trump's January 2017 Executive Order on Immigration" By Amy Guth from Chicago, IL, USA, USA - Chicago O'Hare, 1/28/17, CC BY 2.0, via Wikimedia Commons
Posted-In: News Politics Topics Events Global Movers Trading Ideas General Best of Benzinga
View Comments and Join the Discussion!