Snap Is Getting Ahead Of Other Social Platforms In At Least One Way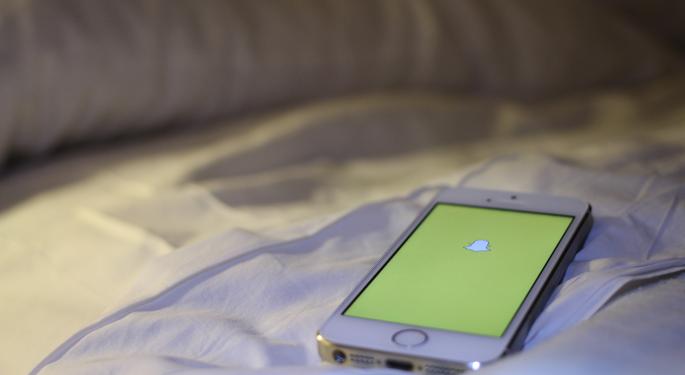 The social media landscape has certainly shifted over the years for the better, but it seems there are more and more scandals occurring these days.
For instance, Benzinga's senior editor Rebecca Sheppard was among one of the hundreds of thousands of Twitter Inc (NYSE: TWTR) users whose account automatically followed President Donald Trump's new profile without her authorization.
Twitter's CEO Jack Dorsey did acknowledge there was a glitch and admitted it was a large error on their end, which was said to be fixed.
"This was a mistake, it wasn't right, we own it, and we apologize," the CEO said in one tweet. "No excuses."
But the story most certainly doesn't end with Dorsey's error admission.
Sheppard took to Facebook Inc (NASDAQ: FB) and posted, "My twitter account automatically followed @potus this morning. I'm not okay with that. And no, I was not following it under Obama, so it's not a "glitch" with the changing hands."
Within minutes, Sheppard's Facebook post changed to only read the second and third sentences.
It read: "I'm not okay with that. And no, I was not following it under Obama, so it's not 'glitch' with the changing hands."
Benzinga reached out to Facebook to comment on the matter, but the company has yet to return an e-mail or phone call. In fact, Facebook has a poor track record in returning media inquiries related to sensitive topics.
Facebook's Notoriously Bad Reputation For No Response
Back in December, Benzinga reached out to Facebook to comment on reports of an alleged large scale scam happening on its social media platform, but the company has not issued a response.
Benzinga isn't alone in noticing Facebook's lack of communication. The British newspaper giant The Guardian noted that Facebook "refused to respond to mounting questions over its apparent failure to take down a live broadcast of the brutal attack of a young man with disabilities in Chicago."
Facebook did respond to the publication with a statement, but it noted the social media company failed to answer the more pressing and sensitive questions.
The Guardian stated: "Facebook refused to comment on how many people — if any — reported the content, although there appear to have been many comments under the live stream made by horrified viewers who may have also used the report tool. Nor would Facebook tell the Guardian when it first became aware of the video and how long it took to decide to take the footage down from the site.
Benzinga also reached out to the U.S. Federal Communications Commission for some clarity as to the agency's role in the social media space — and the answer was surprisingly clear.
"The FCC does not regulate edge providers like Facebook," a spokesperson confirmed.
The FCC was also unable to provide any guidance as to who does regulate the social media space.
How Does Snap Fit In?
As social media users demand companies to a better job in monitoring content, Snap, the parent company of the Snapchat social media platform, seems to be better positioned than others.
According to the New York Times, Snap is implementing new rules to restrict publishers from posting questionable pictures on its Discover timeline that does not offer users any news or editorial value.
Snap is also demanding publishers fact-check posted stories to ensure accuracy and not to post fake news.
Rachel Racusen, a spokesperson for Snap, told the New York Times the changes serve an objective of keeping the platform "an informative, factual and safe environment for everyone."
The New York Times further noted that Snap's change is intended to differentiate itself from Twitter and Facebook, which offer its user bases "wide latitude in what they can post" which has led into many controversies as of late, including the spread of fake news.
"In this environment, every technology company that touches media is concerned about being vulnerable to connections to fake news and disinformation," Joshua Benton, director of the Nieman Journalism Lab at Harvard University told the New York Times. "That's doubly true for a company planning for an I.P.O."
Image Credit: By Maurizio Pesce from Milan, Italia (Snapchat) [CC BY 2.0], via Wikimedia Commons
Posted-In: Donald Trump Facebook Jack DorseyNews IPOs Tech Media Trading Ideas Best of Benzinga
View Comments and Join the Discussion!