Holiday Cyber Scams On Facebook Continue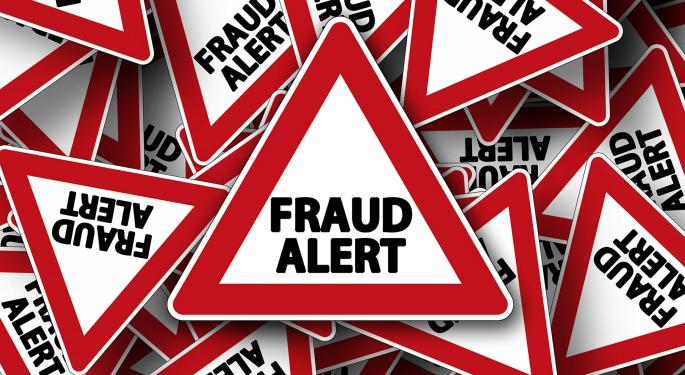 Facebook Inc (NASDAQ: FB) has come under heat for its role in propagating false news reports, but the site also appears to be circulating numerous shopping scams.
Last week, Benzinga covered the allegedly fraudulent activity of Hobbies Discount, the customers of which reported failed delivery of ordered merchandise, refused refunds, evaded emails and — for those whose complaints prompted package reception — poor quality items. One customer lamented the night-vision binoculars, which turned out to be a "small, lousy pair of regular binoculars."
Store Discount Fishing Supplies
Facebook insiders have since raised alerts about Store Discount Fishing Supplies, a page that links to a website with merchandise and page layout resembling that of Hobbies Discount. The websites have convincing — and identical — features vouching for their legitimacy, including a "McAfee Secure" verification and a secure connection lock in the link bar. However, their customer approval rates are, in equal measures, poor.
Those who purchased items from Store Discount Fishing Supplies are now reporting a lack of accountability on the company's part to deliver purchased merchandise, refund incomplete orders or respond to customer complaints — unless with an automated reply assuring delivery in another 15 days. In both cases, the Facebook managers for the allegedly fraudulent companies have promptly deleted complaints posted by consumers. Some Facebook users have resorted to establishing their own pages alerting potential buyers to their experiences.
Hobbies Discount and Store Discount Fishing Supplies are not the only risks for too-trusting online shoppers.
Other Scams And Schemes
A report in early December revealed dozens of cyber scams capitalizing on the Standing Rock protests with knock-off T-shirts or illegally appropriated art.
Fraudulent pages have originated both in the United States and worldwide, with residents of the United Kingdom, Vietnam and other countries partaking in unrelated operations.
Most have been accused of selling counterfeit items, such as the UK's Cornwall Trading Standards. Apart from violation of copyright laws, concerns about imitation goods include the lack of safety regulation tests performed on electrical items or children's toys.
2015 Had Its Own Issues
Last year's Facebook-circulated schemes included airline and lottery ticket sales, as well as the now-revived "Secret Wine Bottle Exchange" or "Secret Sister Gift Exchange," in which participants are urged to send gifts of $10 or more to receive upwards of 36 gifts in return. These pyramid schemes, previously circulated via mail, have taken new form and hit greater masses in the Digital Age through social media postings.
What Users Can Do
Cyber scams have been prevalent enough to provoke the intervention of the FBI, which hosted a Twitter Q-and-A December 15 to combat victims of fraud.
"If you are concerned about the trustworthiness of the recipient, use a true escrow service when transferring money," the FBI posted to its account. The Bureau also encourages victims to report scams to local police and to the FBI at https://www.ic3.gov/default.aspx.
Facebook scams can also be reported to phish@fb.com.
Posted-In: cyber scams Hobbies Discount McAfee SecureNews Psychology Topics Tech General Best of Benzinga
View Comments and Join the Discussion!