AT&T's Deadline To Respond To FCC 'Zero Rating' Concerns Draws Near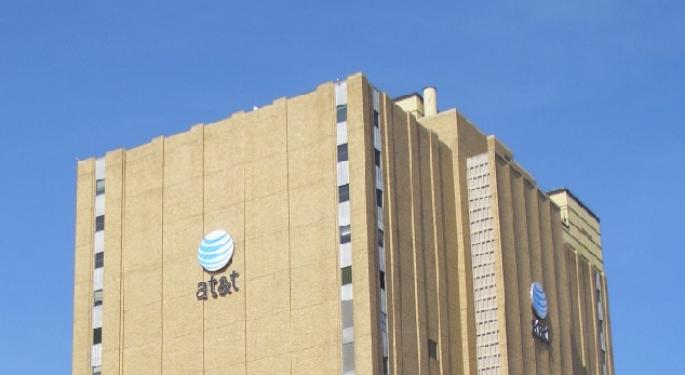 AT&T Inc. (NYSE: T) has recently been pulled up by the Federal Communication Commission for allowing its mobility customers, who also subscribe to DIRECTV's satellite TV service, to stream content through the DIRECTVApp on a zero-rated basis.
Zero-rated service would mean the usage of data for streaming video content by customers would not be counted against subscribers' monthly data allowances under their mobile service plans.
Zero-Rated Service
Even as the zero-rated service of AT&T has become a contentious issue, it has announced plans to launch another broadband-delivered video offering — DIRECTV Now — in the near future, which will be zero-rated for AT&T Mobility subscribers who choose to use it, regardless of whether they subscribe to DIRECTV's satellite TV service.
In a letter written to Robert Quinn, AT&T's senior vice president, external and legislative affairs, FCC Chief of Wireless Telecom Bureau Jon Wilkins said the commission is not put-off by zero-rating per se, but by the impact the zero-rating can have on competition. The commission even suggested that in some cases, zero-rating based business models offer consumer and competitive benefit. This is evident from other companies such as T-Mobile US Inc (NASDAQ: TMUS) offering free data or music and movies and Verizon giving zero-rating package for its Go90 app and still not facing issues.
Clarifying further, the Commission noted that AT&T will have no cash cost to zero-rate its own affiliate's (DIRECTV in this case), but an unaffiliated provider's sponsored data payment to AT&T Mobility is a true cost. The commission sees unaffiliated video providers not purchasing sponsored data will face competitive disadvantage in trying to serve AT&T Mobility's customer base without zero rating.
Not So Simple
The above proposition will be violation of net neutrality rules.
"Under either option for competing with AT&T's video services, unaffiliated video content providers appear to confront significant disadvantages from the combined impact of AT&T Mobility's Sponsored Data fees and zero-rating of its own DIRECTV offerings. We are therefore concerned that this combination appears to present significant anti-competitive effects," the FCC said.
The FCC has solicited a reply by no later than Monday, November 21, 2016.
At the close Friday, AT&T shares were up 0.40 percent at $37.56.
Image Credit: By User:Charvex (Own work (Photo by author)) [Public domain], via Wikimedia Commons
Posted-In: DIRECTV FCC Jon WilkinsNews Legal Movers Tech Best of Benzinga
View Comments and Join the Discussion!