3 Takeaways From Twitter's First NFL Stream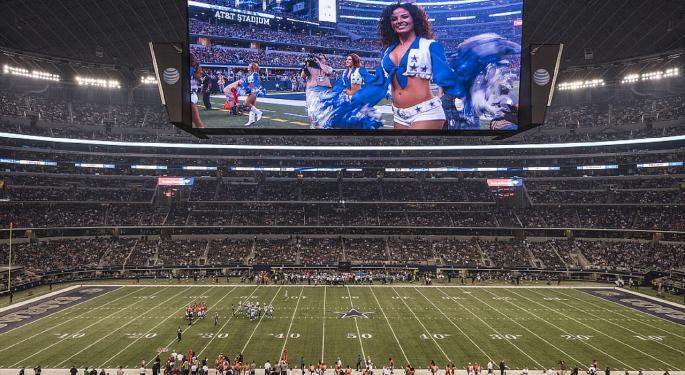 Twitter Inc (NYSE: TWTR) is trading up about 4 percent Friday on the heels of its first Thursday Night Football stream. Based on initial reaction, it appears Wall Street and Main Street are in agreement that Twitter's foray into live TV was a rousing success.
One of the biggest questions ahead of the game was about the stream itself. How would it look? Would it be hard to find? Would it freeze often? Turns out, none of the above. Watching the game on Twitter was arguably more convenient than turning on the TV and finding the channel. Watching on your phone or tablet, all you had to do was open the app and go to the Moments page to find it -- a three-click process.
And with the exception of a couple of hiccups, the stream quality was great. It felt like watching a regular broadcast. There are still a couple of kinks to work out (I had a little trouble starting the stream for the first time, but none on any of the restarts), but otherwise the stream was about as good as it could have been.
Related Link: Twitter Could Be Going All-In On Live Streaming
It was very easy to ignore advertisements.
This may not bode well for brands. As a consumer, I'm always looking for ways to dodge ads, and this was especially easy on Twitter. By simply putting my phone down or switching to my own timeline, not only didn't I hear the ads, I didn't see them either. When my timeline told me the game was back, I just clicked back to the game.
With TV it's easier to absorb ads by osmosis, but I had a 99 percent ad-free experience on Twitter.
Watching the stream genuinely felt like a new experience.
Streaming games on mobile isn't a new concept. Neither is following a game on Twitter. But combining the two created a whole new experience.
Discussions about the "second screen" experience have been around the block several times now, but merging the real-time discussion with the game itself may have brought us back to the single screen. Some users complained about being forced to watch the game on the same screen as Twitter's main feed instead of their own curated pages of only the people they follow, but that seems like a minor fix.
Twitter got the most important thing right.
The success of Thursday night can hardly be understated from Twitter's standpoint. While its struggles on Wall Street have been well-documented, the fact that users seem genuinely excited about the resulting product, not to mention that Twitter got the games at a huge discount, could be just the shot in the arm it needed.
Other media properties are already jumping on the bandwagon, with Time Inc (NYSE: TIME)'s Sports Illustrated announcing on Thursday that Twitter's stream will also be available on a variety of their sites.
Now we just need to wait for viewership stats.






View Comments and Join the Discussion!
Posted-In: nflNews Sports Events Opinion Top Stories Tech General Best of Benzinga