Bill Ford Jr: Automaker On Cusp Of 'Revolution'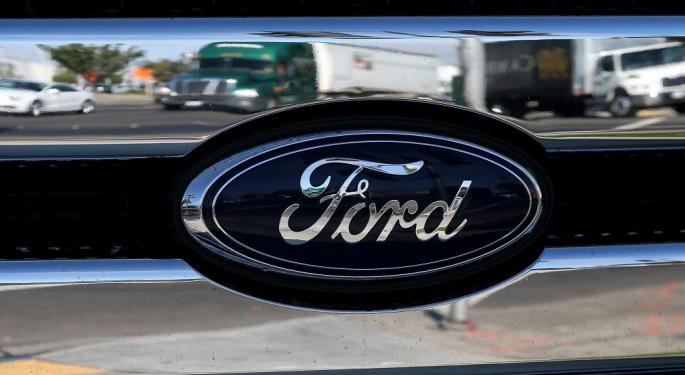 At the North American International Auto Show earlier this week, Ford Motor Company (NYSE: F) revealed the 2017 F-150 Raptor SuperCrew and three new Ford Fusions; the stock gained 1.75 percent that day.
After the presentations, Bill Ford Jr., Executive Chairman of Ford, had a talk with Robb Report's Katrina Szish. Ford discussed the new launches and the company's transition from an auto manufacturer into a mobility business, among other subjects.
Check out the rest of the report here.
That New Car Smell
When asked about the new models, Ford said "the Raptor is kind of the ultimate in adrenaline, and kind of a big testosterone machine." The Fusion's three models kind of cover the rest of the span -– including hybrids, he added.
The Evolution Of Ford
Talking about how Ford has changed over the years, the Chairman assured that every year brought plenty of transformation. Now, the company is on the cusp of "a revolution," he continued. The company is "morphing from just an auto manufacturer into a mobility company – and all the things that that will entail."
"If you and I were to be talking in 10 years from now, we'd have a very different business model than we have today," Ford stated. "How we move people around is changing, but will change even more in the next few years."
This is changing the design of cars, especially on the software side, he added.
Disclosure: Javier Hasse holds no positions in any of the securities mentioned above.
Posted-In: Bill Ford Jr. Katrina Szish Robb ReportNews Events Media Best of Benzinga
View Comments and Join the Discussion!