Twitter Emerging As Cornerstone In 2016 Campaign Strategies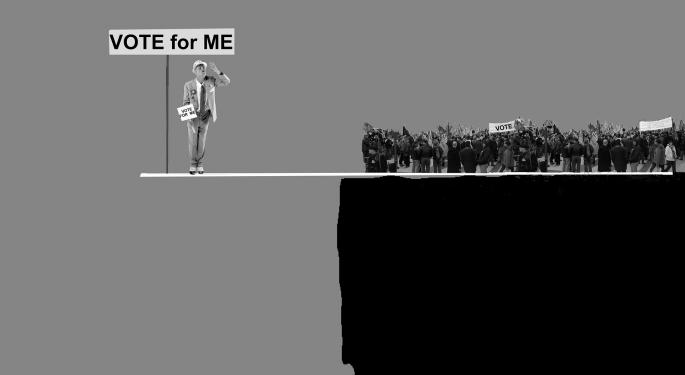 This year, Twitter Inc (NYSE: TWTR) aimed to make its social media platform a necessary part of every candidate's campaign by adding new features that would attract both new users and the candidates themselves.
The firm created a way for supporters to send campaign donations via tweet, and upped its involvement in political events. Ever since President Obama embraced the social media world during his own campaign, sites like Twitter and Facebook have become important gauges of likability and engagement for politicians.
This couldn't be more true for the 2016 campaign, in which Twitter has emerged as a platform as important as any swing state.
The King Of Twitter
Of every candidate in the race, Donald Trump has been touted as the one who is using Twitter to its fullest extent. Trump has depended heavily on social media to gain supporters and get his message out to the masses. He has accumulated five times more followers than any of his GOP competitors, and his account has been active for the longest period of time, as Trump became a public figure long before a presidential election was ever in the cards.
Related Link: Barron's Recap: Donald Trump And The Art Of Baloney
He receives more attention on the site than any other candidate, with eight times as many mentions as rivals like Marco Rubio and Carly Fiorina. Trump's unfiltered messages and pointed remarks have ensured that the business mogul is always the topic of a conversation.
Debate Tools
Twitter has proven an important gauge of popularity for candidates, especially following big events like debates. The social media site is planning to team up with CBS for the second democratic debate on November 14, taking over from Facebook Inc(NASDAQ: FB), the official partner for the first Democratic and Republican debates.
While Twitter wasn't an official partner during the Democrats' first debate, the site was alight with activity as people discussed the merits of candidates' arguments. The site not only gave Americans a way to talk about the debate, but it provided important insights as to how candidates' performances resonated with the public.
Bernie Sanders emerged as a clear winner on Twitter following the first debate; he gained 35,163 new followers during the 150-minute broadcast. Hillary Clinton, by comparison, added just 13,252.
Behind The Curtain
One of the major reasons many believe the Obama campaign was so successful was that the president presented himself in a way that made the American public feel like they knew him outside of Washington. Using sites like Twitter and Instagram, candidates have the ability to inject some humanity into their campaigns by giving followers a taste of their personality.
During last week's "Back To The Future" day, several candidates posted their own quips regarding the movie.
Hashtags Help
Twitter's hashtags have also contributed to the growing political enthusiasm the site has been cultivating. Not only are users able to directly contact candidates using their Twitter handles, but they can converse with each other regarding specific incidents or issues using dedicated hashtags.
This feature has made it essential for candidates to gather a group of loyal followers who will defend their position in Twitter debates. Donald Trump has mastered this aspect of the site as well, his followers are fiercely loyal and tend to passionately rise to his defense on social media.
A Win On Twitter
Making a name on Twitter is an important part of any presidential hopeful's campaign, but navigating through the world of social media can be a difficult task. While candidates like Donald Trump are using platforms like Twitter to ensure their name isn't forgotten, there is some question as to whether or not the attention he is receiving is largely negative. Trump's outspoken and often inappropriate tweets certainly keep people talking, but what they're saying is important as well.
Twitter users are notoriously harsh, meaning that one embarrassing moment or disappointing campaign ad can spark a smear campaign within seconds. Not only that, but some are questioning just how many outspoken Twitter users are actually planning on voting. Just because a candidate has amassed an impressive following doesn't mean they will earn a similar volume of votes.
What Does It Mean For The Little Blue Bird?
It's clear just how important Twitter is to politicians, but what about the other way around? Twitter has immensely benefitted from the 2016 election because it has renewed enthusiasm and engagement among users.
The site has been struggling to attract new users and keep its existing customers coming back, but the Twitter's involvement in political debates and its exposure on the campaign trail is likely to generate a renewed buzz around the platform.
Image Credit: Public Domain
View Comments and Join the Discussion!
Posted-In: 2016 Campaign Barack Obama Bernie SandersNews Politics Markets Tech General Best of Benzinga