How Every Presidential Candidate Wants To Change The Economy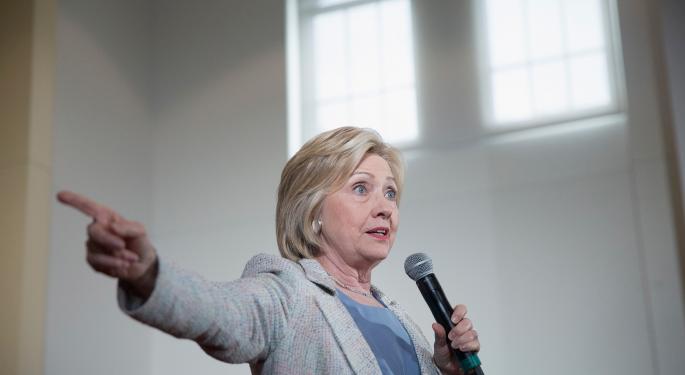 As the 2016 race for the Oval Office picks up steam, candidates are honing their individual policy stances. And with all of the major candidates having made their bids official after John Kasich's announcement last week, now is as good a time as any to examine their individual platforms.
Below is a brief summary of each candidate's positions with regard to the domestic economy and the financial sector. They are divided by party, then ordered alphabetically.
Democrats
Hillary Clinton
Raise minimum wage
Close corporate tax loopholes
Raise capital gains tax on investments held for more than six years by Americans in top income tax bracket
Cut middle class taxes
Martin O'Malley
Reinstate Glass-Steagall
Tax cuts and regulatory reforms to help job creators
"Middle-out" economics instead of "trickle-down" economics
Bernie Sanders
Break up large banks
Impose fees for high-risk investments
Introduce $15 minimum wage
Related Link: Clinton To Scrutinize Stock Buybacks
Republicans
Jeb Bush
Oppose new tax increases
Aim for 4 percent annual growth
Ben Carson
"The free market works."
Eliminate progressive tax system; make everyone pay the same rate.
Support balanced budget amendment
Chris Christie
The rich are doing fine; support middle-income workers
Reform entitlement programs so that wealthy Americans pay more
Set income tax ceiling at 28 percent
Ted Cruz
Oppose raising minimum wage
Oppose raising debt ceiling
Fight hikes in inheritance and capital gains tax
Reduce federal regulation of energy sector
Carly Florina
Remake new budget from scratch each year
Simplify tax code
Cut federal payroll and base compensation on performance
Related Link: How Donald Trump Is Outpacing The GOP Pack
Lindsey Graham
Defund the Affordable Care Act
Increase revenue (potentially including tax hikes) to balance budget
Cut spending to raise debt ceiling
Mike Huckabee
Lower taxes for everyone and eliminate the IRS
Achieve complete energy independence
Support balanced budget amendment
Repeal and replace the Affordable Care Act
Bobby Jindal
Increase defense spending
Reduce business and income taxes
Shift healthcare toward free marketplace
John Kasich
Support balanced budget amendment
No income taxes on small businesses
Support student debt relief
Defend social safety net
Rand Paul
More oversight of fed; less of community banks
"America needs Adam Smith, not Robin Hood."
Cut taxes and spending
Trade with China improves economy
Rick Perry
Regulate Wall Street, but ease off community banks
Cap federal spending at 18 percent of GDP
Cut entitlement programs
Flat tax rate of 20 percent
Marco Rubio
Eliminate deficit and require balanced budget
Lower corporate tax rate
End inheritance, dividends and capital gains taxes
Rick Santorum
Publicize spending costs of spending amendments
Eliminate taxes on manufacturers and slice corporate tax in half
Raise minimum wage
Donald Trump
Congress must cut spending
Grow the economy to save Social Security and Medicare
End corporate taxes and lower individual rates
Scott Walker
Decrease corporate regulation to allow private sector to create jobs
Reduce dependence on federal unemployment programs
Promote expansion of domestic oil and gas industry
Image Credit: Public Domain
Posted-In: Ben Carson Bernie Sanders Bobby Jindal Carly Florina Chris ChristiePolitics Top Stories General Best of Benzinga
View Comments and Join the Discussion!