The Fastest-Growing Holiday In America Is … Spooky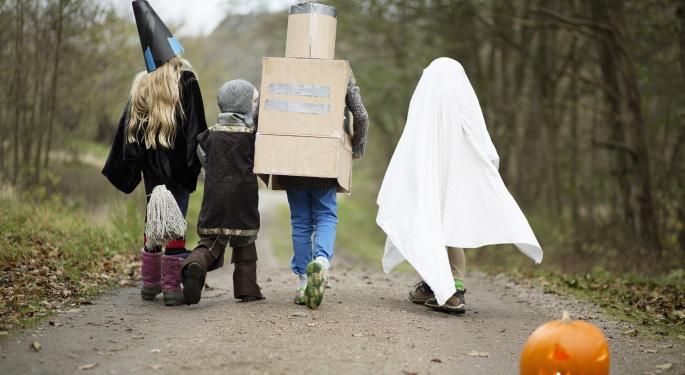 According to the National Retail Federation, Americans said they planned to spend a whopping $7.4 billion on Halloween in 2014.
That's a 5.87 percent increase over the $6.99 billion spent last year, making Halloween the fastest-growing holiday in America. Utilizing NRF data the University of Detroit Mercy's Mike Bernacchi said the next-fastest growing holiday, Christmas, was expected to grow 5 percent year over year.
Related Link: Rite Aid Puts the Happy in Halloween This Spooky Shopping Season
Long-Term Trends
Moreover, extrapolating figures from 2009 (past the Great Recession) to now, Halloween spending has grown a whopping 55.79 percent, leaving other major holidays like Father's Day (33.23 percent), Easter (25 percent) and Valentine's Day (17.69 percent) in the dust.
Although the Christmas holiday shopping season has long been the largest, its growth of 13.65 percent from 2009 to 2014 (estimated) would easily make it the slowest growing of the lot.
Participation Rate
A significant factor, according to the NRF, for the explosive growth of Halloween in recent years has been the number of adults choosing to celebrate the holiday.
Two out of every three adults (18 or older), roughly 66.7 percent of the population, said they planned to celebrate Halloween in 2014. That represents almost 162 million adults in the United States.
Halloween-Related Spending
Bernacchi noted that Halloween commerce is a "four-headed monster" consisting of costumes, candy, decorations and cards.
Individually, none of the four challenges the gift-giving power of other holidays, but combined they have become a force to be reckoned with.
Just how large a force is spelled out in the chart below.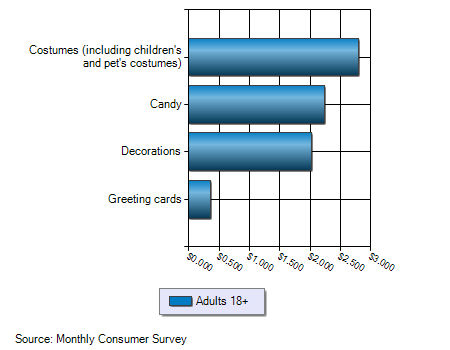 As the chart makes clear, the lion's share of consumer Halloween spending would go toward costumes ($2.8 billion). Candy and decorations would combine for another $4.3 billion, and Halloween-related cards would take up about a third of a billion dollars.
Related Link: Halloween Business is Big Business
Companies Set To Be 'Treated'
While many major corporations "bob" for Halloween dollars, some are traditionally more invested than others are. As a result, their Halloween sales volume is typically impressive.
Among retailers, Wal-Mart Stores, Inc. (NYSE: WMT) stands out, partly because it's the largest retailer in the world and partly because it covers all four Halloween categories (costumes, candy, decorations and cards) in a big way.
On the candy side, The Hershey Company (NYSE: HSY) has always been a winner, and this year should be no different.
With costumes based on the hit children's movie "Frozen" expected to be among the biggest sellers this year, The Walt Disney Company (NYSE: DIS) will likely celebrate Halloween in style.
Privately owned Hallmark Cards, Inc. and American Greetings will sell its share of spooky greeting cards, but with less sentimental holidays like Halloween, online eCard providers like Jacquie Lawson and Jib Jab should also get a lot of attention.
At the time of this writing, Jim Probasco had no position in any mentioned securities.
Posted-In: American Greetings Christmas Hallmark HalloweenTopics Top Stories Success Stories General Best of Benzinga
View Comments and Join the Discussion!