IntraLinks Holdings Inc DealNexus Mobile M&A App Expanded To Feature Full Access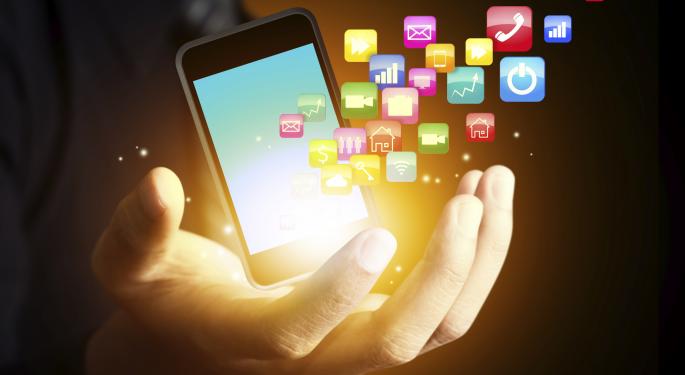 Global SaaS provider, IntraLinks Holdings Inc (NYSE: IL) announced Monday that it has expanded its Intralinks DealNexus mobile app to provide full access to and interaction with a global community of approximately 10,000 dealmakers.
iPad Version Added
In addition to the new iPhone app, IntraLinks also introduced an iPad tablet version of the mobile app. According to IntraLinks, the new software lets users securely and discretely market and source M&A deals from start to finish in a mobile setting.
Related Link: Online M&A Dealmaking Grows, Fueled By IntraLinks DealNexus
Android Version Priority in 2015
Currently, the IntraLinks DealNexus mobile app is available in the Apple Inc. (NASDAQ: AAPL) App Store for iOS 7-enabled devices where it can be downloaded free.
As for availability on other platforms, responding to a query from Benzinga, an IntraLinks representative said, "An Android app will be a priority in 2015."
Freedom of Movement
IntraLinks DealNexus director Tony Hill said, "Multitasking and travel are crucial elements for M&A success; however, they have historically been at odds with effective deal marketing and sourcing."
"With this new Intralinks DealNexus mobile app, dealmakers have the freedom to be on the move, but can still be connected to and confidentially exchange deal opportunities with a pristine, global network of qualified M&A professionals. Time and information are invaluable commodities in any deal process. This app helps dealmakers harness them anywhere in the world."
Powered By DealNexus
IntraLinks DealNexus, which enables dealmakers to locate and engage with buyers and capital partners, is the brains behind the new app. DealNexus has been used by almost 6,000 companies, investment banks, M&A advisory firms and private equity groups.
By utilizing the new iPhone or iPad app, those same dealmakers are not tied to an office or desktop computer. Instead, they can react to changing situations no matter where they are.
Related Link: IntraLinks Deal Flow Indicator Predicts Significant Increase In 2014 M&A Volume
Mobile Advantage
From a practical perspective, the ability to conduct M&A research and, more importantly, to see a deal through from beginning to end, while away from the office, could give mobile-enabled dealmakers a decided advantage.
As Pitcher Partners assistant manager, Nathan Vom Bruch said, "With the launch of the mobile application, we are now able to receive, respond to, and act on deal information requests faster, anywhere at any time, providing great benefits to both the buy side and sell side by accelerating the deal marketing process."
At the time of this writing, Jim Probasco had no position in any mentioned securities.
Posted-In: Android Apple Inc. Benzinga Inc. Intralinks DealNexus IntraLinks HoldingsTech General Best of Benzinga
View Comments and Join the Discussion!