McDonald's Introduces Faster Food In 60 Seconds Or Less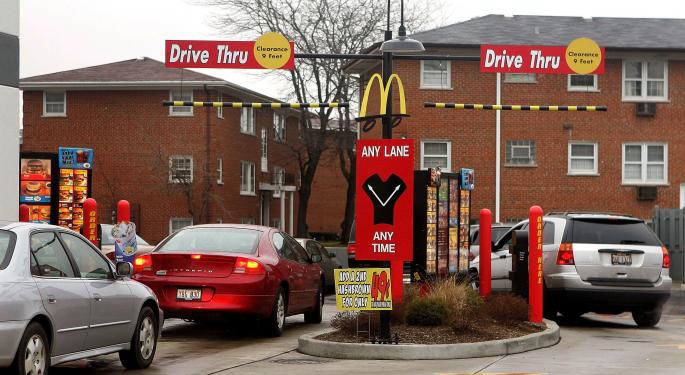 If you live in (or are visiting) Florida between now and August 29, McDonald's (NYSE: MCD) would like to see you –- but only briefly.
The company is running a promotion during which customers are given a timer when they pay for their order. If it takes more than one minute to receive the food, they get a coupon for a free lunch item at a future visit.
Not So Fast
Based on results of the 2013 Drive-Thru Performance Study, McDonald's has its work cut out for it. According to QSR and Insula Research, who conducted the study, McDonald's took 189.49 seconds (about 3.1 minutes), on average, from payment to food delivery, the worst time for McDonald's in the 15-year history of the study.
Related Link: Has McDonald's Become Irrelevant?
We Need More Windows
Following the 2013 study, McDonald's said it would add a third window to its drive-thru operations at new and rebuilt stores. According to McDonald's spokeswoman Lisa McComb, "It [the third window] enables customers to pull forward to receive orders at a third window when their order is not yet ready. It will enable us to better serve more customers quickly."
From "30 Minutes or Less" To "What's the Hurry?"
Back in 1979 Domino's Pizza began promising delivery in "30 minutes or it's free." The practice ended in 1993 following a number of lawsuits related to the increasing number of accidents caused by delivery drivers speeding in order to beat the delivery promise.
Beginning in 2013 the company actually began promoting slower delivery times in order to play to customer perception that the longer it took to prepare their pizza, the higher the quality.
McDonald's sits alone on the "time guarantee" bench in fast food. Given competition for quality and variety with fast casual restaurants like Chipotle, other fast food eateries may soon join in, according to Time Magazine.
And The Winner Is …
If that happens, results of the QSR/IR study may provide a hint at who might be most likely to succeed with a service time guarantee.
Fastest delivery came from Wendy's at 133.63 seconds (2.2 minutes).
Number two, Yum-subsidiary Taco Bell, delivered in 158.03 seconds (2.6 minutes), and privately owned Taco John's handed customers their Mexican cuisine in 181.19 seconds (three minutes).
The aforementioned McDonald's came in fourth, and Burger King was number five at 198.48 seconds (3.3 minutes), which actually represented an improvement for the chain over the results of last year's study.
At the time of this writing, Jim Probasco had no position in any mentioned securities.
Posted-In: Burger King Chipotle Domino's Pizza Lisa McComb McDonald's Taco BellRestaurants General Best of Benzinga
View Comments and Join the Discussion!