Samsung's Gear VR Device Expected To Launch In September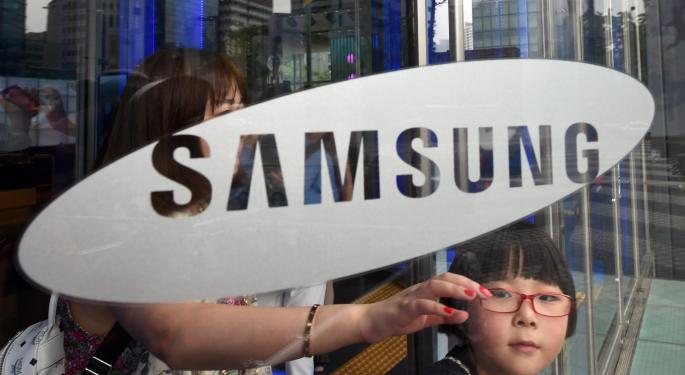 According to Engadget, anxious virtual reality-obsessed techies won't have long to wait before they see Samsung's (OTC: SSNLF) upcoming VR device.
Developed in collaboration with Facebook's (NASDAQ: FB) Oculus VR, the Samsung Gear VR will reportedly be showcased at IFA 2014 in Berlin in early September.
Engadget sources indicate the device would not be stand-alone but rather a peripheral, used in conjunction with the user's Galaxy smartphone, which would plug in via USB and serve as the screen.
The peripheral approach, SamMobile said, would allow Samsung to eliminate headset sensors for head tracking -- and instead make use of the smartphone's accelerometer, gyroscope and processor.
That's the hardware side. The software segment, Engadget indicated, would come from Oculus VR, which produced the Oculus Rift.
Related: Digitimes Reports Apple, Samsung Still Top-2 Smartphone Vendors for Q1 2014
A touchpad along the right side of the device, similar to the one found on Google (NASDAQ: GOOG) Glass, would be designed to provide for interaction with the Oculus VR software.
In addition, on the right side of the device a see-through button uses the smartphone's rear-facing camera sensor, to supply a "real-world" video feed. This eliminates the need for the user to remove and replace the headset repeatedly, making the overall experience much more pleasant.
Samsung reportedly would make the SDK available shortly after announcement of the device in September. Engadget suggests the strong tie-in between Samsung and Facebook might well result in attendees at the Oculus Connect developers' conference being presented with a Gear VR headset as a parting gift.
SamMobile noted, meanwhile, that the "peripheral" approach would allow Samsung to cut manufacturing costs and, in theory, offer the new VR headset at a low price point. The "in theory" disclaimer referenced the fact Samsung typically does not like to bring out new product at bargain basement prices.
Meanwhile, Stratechery, reacting to Samsung's less-than-impressive Q2 financials, noted the three advantages that have allowed Samsung to build its healthy high-end smartphone business -- carrier availability, large screen and superior hardware -- were all in the process of disappearing.
Stratechery suggested companies like Samsung, without their own OS, could end up eating themselves alive.
However unique new products, such as a low-cost peripheral-based VR device, might help.
At the time of this writing, Jim Probasco had no position in any mentioned securities.
Posted-In: Engadget Facebook Galaxy GlassNews Events Tech Media Best of Benzinga
View Comments and Join the Discussion!