Nintendo Promoted 'Mario Kart 8,' Nintendo 2DS With $9.7 Million TV Ad Campaign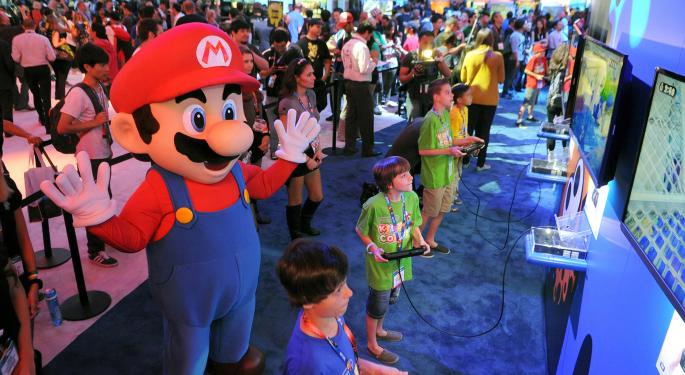 Nintendo (OTC: NTDOY) spent a fair amount of money to ensure the success of Mario Kart 8.
The company spent $2.8 million on national TV ads during the first four months of the year (January 1 through April 30, 2014). Nintendo spent an additional $9.7 million during the following two months (May 1 through June 29, 2014) -- a move that was no doubt fueled by Mario Kart's release.
In early June, Nintendo announced that it had sold 1.2 million units worldwide.
Nintendo's Message Getting Lots Of Play
According to iSpot (a real-time TV advertising intelligence platform), Nintendo has collectively aired its various Mario Kart 8 commercials more than 2,000 times.
Nintendo has also aired its latest Nintendo 2DS ad, "Outdoors," more than 1,800 times. In the ad, Nintendo promotes the low-cost handheld as a device that kids can use outside during the warm summer months.
Related Link: More Than 30,000 People Attended Nintendo's 'Smash Bros.' Event At Best Buy
Sean Muller, co-founder and CEO of iSpot, told Benzinga that the "Outdoors" ad has been performing well for Nintendo. He said that it has a 9.2 rating on iSpot (versus the industry average of 5.6).
"[That rating] measures…how much consumers are responding to the ad in relation to how much they spend on the campaign," said Muller. "We track all the social activity around the ad -- all the searches in relation to the estimated spend of that campaign. [The] 9.2 rating is very high, so that campaign is working very well for them."
Nintendo has already produced 17 different commercials this year, and not every penny has been allocated to Mario Kart and the Nintendo 2DS. But it's clear that majority of Nintendo's ad dollars are being spent on one new game.
Related Link: Xbox Playstation TV Ad Spending Could Reach $125 Million In 2014
The Uphill Battle Continues
Nintendo has not updated its official Wii U sales figures since before Mario Kart 8 was released. As of March 31, 2014, Nintendo had sold 6.17 million Wii U consoles worldwide.
If every Mario Kart 8 buyer also purchased a Wii U, total console sales would have surpassed the seven million mark by now.
Even then, some critics fear that Mario Kart 8 will be the worst-selling chapter in the series. Polygon recently published a piece explaining why this may occur.
In April, Benzinga analyzed the sales data of Wii U's biggest games, none of which have been able to surpass their GameCube predecessors.
Thus far, GameCube has been Nintendo's least-successful console. The company sold 21.74 million units between 2001 and 2006.
Disclosure: At the time of this writing, Louis Bedigian had no position in the equities mentioned in this report.
Posted-In: comments GameCube iSpot Mario Kart Mario Kart 8Topics Tech General Best of Benzinga
View Comments and Join the Discussion!