Google's 10-K Filing Lays Out M&A Wish List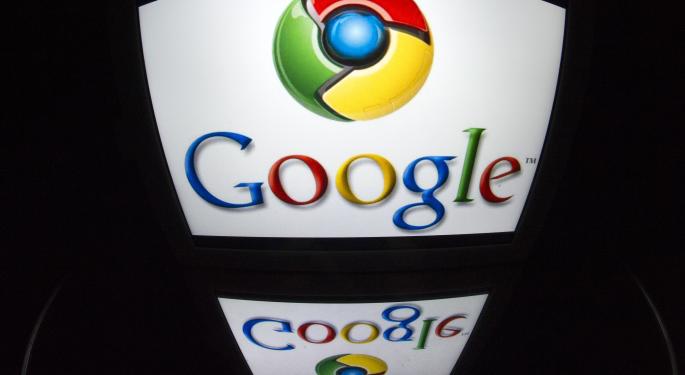 In a letter to the United States Security and Exchange Commission filed on Tuesday, Google (NASDAQ: GOOG) (NASDAQ: GOOGL) responded the regulators' concerns regarding the company's 10-K filing on January 29, 2013.
With emphasis on the substantial amount of money in foreign operations, Google reported that the company needs $20 to $30 billion for possible merger and acquisition activities.
Show Me the Money
At the time of this letter, Google's Director of Finance Amie Thuener reported the company had $15 billion in cumulative earnings in U.S. operations as of December 31, 2012.
In cumulative indefinitely reinvested non-U.S. earnings, Google has $33 billion for the same respected period.
The Director of Finance pointed towards the necessity of funds to "continue to scale at a consistent rate with our overall needs to support continued expansion plans in future years."
Thuener stated that the company spent $1.4 billion on more than 20 deals from January to the beginning of December in 2013, and recently backed out of a potential buyout valued at $4 to $5 billion. In 2012, the company 13.6 billion for various acquisitions.
See also: Have Apple And Google Kissed And Made Up?
The letter stated, "In addition to using offshore earnings to acquire foreign targets, our existing cost sharing arrangement requires our foreign affiliates to fund the acquisition of the foreign technology rights of our domestic targets to comply with U.S. tax law. As approximately 50% of our revenues are generated in non-U.S. markets, this will result in a significant use of foreign earnings for both domestic and foreign acquisitions. Accordingly, we continue to believe that it is reasonable to forecast that Google needs between $20 to $30 billion of foreign earnings to fund potential acquisitions of foreign targets and foreign technology rights from U.S. targets in 2013 and beyond."
Recent M&A Activity, Projects, & More
This year alone, Google announced that it planned to pay $3.2 billion for digital-thermostat maker Nest Labs Inc. and sell Motorola Mobility for $2.9 billion. The company has also made smaller purchases since January to continue to build its mobile business, advertising, and cloud services.
On April 29, 2014, Google partnered with SunPower Corp. (NASDAQ: SPWR) to fund a total of $250 million of residential solar lease projects. Google will commit up to $100 million for the renewable energy project. The press release states that the company has invested more than $1 billion in 16 renewable energy investments.
Not the First SEC Probe on Google
Google and the SEC have danced the tango before in questions regarding financial disclosures. In a correspondence on February 28, 2014, Google disclosed its correspondence with the SEC regarding the financial filings of advertising revenues, cost per clicks, and Motorola shipments and revenues.
In 2010, the company was also under scrutiny by the SEC regarding taxes on foreign source income. The letters continuously reference 10-K filings and 10-Q filings, to ensure validity of the statements.
In a correspondence on December 13, 2010, the VP of Finance and Chief Accountant Mark Fuchs wrote, "We believe that it is appropriate not to disclose the potential tax impact to liquidity associated with the repatriation of undistributed earnings of our foreign subsidiaries or the amount of investments currently held by our foreign subsidiaries as we have no intention of distributing any of our cumulative earnings to the parent company in the U.S., and as such, there will be no tax impact. As a result, we respectfully submit that we should not be required to disclose any impact to liquidity as a result of the repatriation of undistributed earnings of our foreign subsidiaries."
"Creative" Accounting
Google has not been the only technology under attack by regulators for keeping money overseas to avoid paying U.S. taxes. The size of the company's foreign funds in comparison to U.S. is significant, though.
According to Michael Liedtke from newsobserver.com, "Lawmakers in Britain and France also have lashed out at Google for avoiding taxes in their countries by booking revenue in Ireland, where tax rates are lower."
Liedtke added, "A proposal urging Google to pay its "fair share" of taxes around the world was rejected by more than 90 percent of the company's shareholders at a meeting last week."
Posted-In: Amie Thuener newsobserver.com SECNews Legal Management Tech Best of Benzinga
View Comments and Join the Discussion!