Why Would Apple Pay $3.2 Billion For Beats Electronics?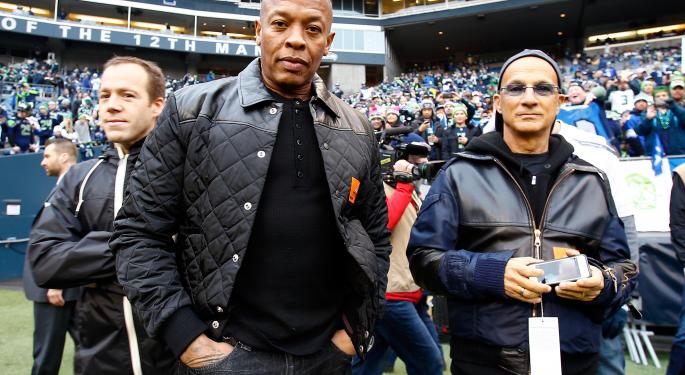 The Financial Times reported that Apple (NASDAQ: AAPL) is on the verge of acquiring Beats Electronics for $3.2 billion.
Not long after that report hit the Web, the Los Angeles Times said that two independent sources confirmed that Apple and Beats had discussed a possible acquisition.
This leaves a lot of questions for investors and consumers alike, the first one being fairly obvious: why would Apple pay so much for a company that sells audio electronics?
Apple is not in the audio business. The company already designs and manufactures its own earbuds and is rumored to be developing a revolutionary upgrade that could monitor a user's heart rate and blood pressure. With so much innovation coming out of Cupertino, does Apple really need to acquire Beats?
Time's Sam Gustin speculated that Apple wants Beats to compete with Spotify. By acquiring Beats, Apple would gain access to the company's existing slate of streaming music contracts. It could, in effect, buy its way into Spotify's territory.
Related: Apple's Next Big Innovation: Banking, Credit Cards And Other Financial Services?
That's a fair assumption, but Beats is a pay-only service with 525,000 subscribers. Spotify, on the other hand, offers a free version and is used by 24 million people every month. Five million of those users have signed up for Spotify's premium service.
Would Apple really pay $3.2 billion for a company that might be able to compete against Spotify?
"Dollar-wise, in the grand scheme of things, it's not a large deal," BTIG analyst Walter Piecyk told Benzinga. "But I think the reason it's of interest to people is that the company hasn't spent more than $400 million [on an acquisition] over the last couple of decades. So any type of change in pattern obviously increases people's interest in tying to figure out what's going on."
Beats Electronics has integrated its technology (and popular brand name) into PCs from Hewlett-Packard. Ironically, AuthenTec -- Apple's last major acquisition -- also brought its technology to HP computers before being acquired.
"The brand enhancement doesn't seem to resonate given that Apple has the strongest brand in the world, according to Interbrand," said Piecyk, who isn't convinced that Beats will alter consumers' interest in Apple.
"Apple's products are expensive," Piecyk added. "I think if [they] were cheaper, [consumers would] buy more Apple products. The music service is something that's interesting, but there's no critical scale there, and it's not clear if the curation is truly superior. We don't even know if the people that designed the curation engine are still at the company.
"Obviously some of the people that are at Beats are high-profile people within the media industry and can help with getting exclusives. But does that justify $3.2 billion? I'm not sure, and those would probably be good questions for the management team to address if they actually announce this transaction."
Disclosure: At the time of this writing, Louis Bedigian had no position in the equities mentioned in this report.
View Comments and Join the Discussion!
Posted-In: Apple Beats Beats ElectronicsM&A Rumors Top Stories Success Stories Tech Best of Benzinga