MovieLaLa Wants To Be The Match.com Of Moviegoer Meet-Ups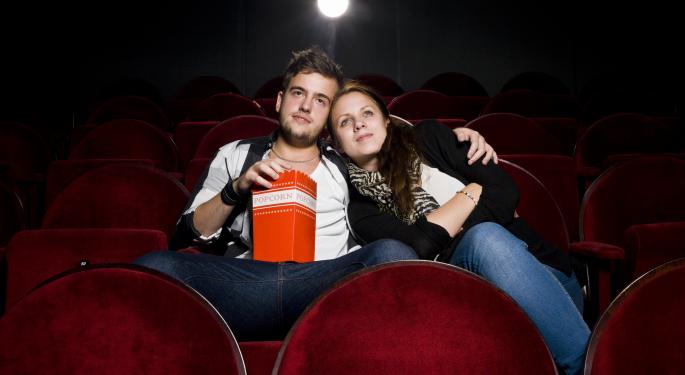 If this startup has its way, movie lovers could use upcoming films as a way to break the ice, make new friends and score a few dates.
Set to launch next month at MovieLaLa.com, the site is being designed to change the way consumers share movies. An iPad app will also be released, followed by iPhone and Android apps.
"We want to be cross-platform," Dana Loberg, co-founder and CEO of MovieLaLa, told Benzinga. "It's more about the mobile apps. On our website you'll have a personalized Hollywood feed, unlimited scrolling, you will see friends that are interested in going to [a particular] film. You can engage with it at the end of the trailer, say, 'I wanna watch this.' You can share it more seamlessly across any platform. You can tweet and rate the trailer or film automatically."
One of the key differentiators between MovieLaLa and other social media sites is that it will allow users to find other people who want to go to the movies.
"It opens the conversation," said Loberg. "If you're a nerdy teenager and you're nervous because you have a crush on a girl, you can now share a trailer and say, 'Hey, we should watch this together,' and then open up a conversation [with a girl] that you normally wouldn't have the guts to chat with."
Related: Could Movie Tickets Rise to $150?
But it's not just for people you know -- MovieLaLa's location-based features will also allow users to meet new people before heading to the nearest theater.
"I don't feel like any of the movie apps today, whether we're talking about IMDb, Flixter or Rotten Tomatoes or any of those, have that overlay of finding new people or inviting your friends to go to the film," said Loberg.
Social Media: Not As Successful As It Appears?
According to Loberg, the share rate for movie trailers is very small -- roughly 0.01 percent.
But if that's the case, how are films like Walt Disney (NYSE: DIS) Studios' Captain America: The Winter Soldier able to earn millions of views for each trailer?
"Studios are really good at marketing films," Loberg explained. "They don't just use YouTube. They use Facebook, they use Twitter, they use marketing agencies, they use PR. There are a million ways that they are activating the users and re-targeting them and doing all the stuff that they should be. But none of these platforms were built specifically with movies and studios in mind when it comes to data analytics and all this engagement. So studios are putting more and more money into re-targeting the fans and followers on other platforms."
Related: 'Jobs' Movie An iFlop
Loberg hopes that MovieLaLa can simplify the process and offer a more targeted approach to movie studios.
"I know people are sharing trailers," she added. "It's kind of like a natural thing. But these platforms weren't built to do it very seamlessly. On YouTube you have to enter people's e-mails and memorize who all those people are. There's an easier way to promote the film and trailer that none of the platforms are doing today."
On that note, MovieLaLa is somewhat different from other social media sites. Instead of focusing on users today and monetization tomorrow, MovieLaLa wants to get studios involved from the start. Studios that use MovieLaLa will gain access to a host of analytics, such as when users stop watching movie trailers, who they share them with and other data that is not readily available from other social media sites.
Disclosure: At the time of this writing, Louis Bedigian had no position in the equities mentioned in this report.
Posted-In: Dana Loberg Facebook MovieLaLaNews Success Stories Startups Tech Interview Best of Benzinga
View Comments and Join the Discussion!