iPhone 6 Demand Sets New Record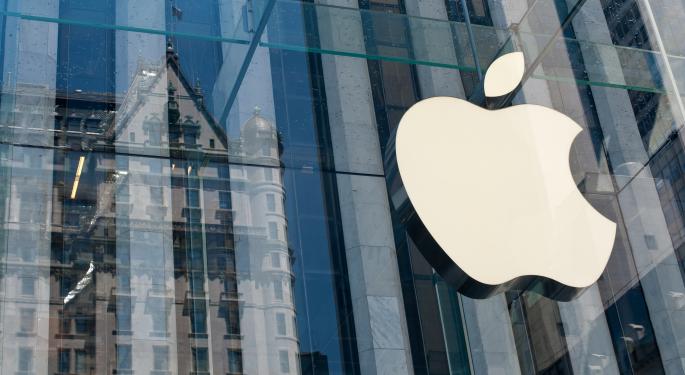 Pre-release demand has reached an all-time high for Apple's (NASDAQ: AAPL) next smartphone.
iPhone 6 rumors have been coming at a dizzying pace, with multiple reports appearing every week.
To gauge consumer interest in the new iDevice, Andy Golub of 451 Research (which owns ChangeWave Research) provided the following information to more than 4,100 consumers:
Some analysts think Apple will release its next generation "iPhone 6" later this year. New features would likely include a larger screen size, gesture control, a faster processor, and an updated iOS operating system. The "iPhone 6" is expected to cost $199 for the 16GB model, $299 for the 32GB model, and $399 for the 64GB model on most of the major carriers.
Related: Apple's iPhone Phablet Will Pose a 'Serious Threat' to Samsung's High-End Market
Those consumers (who are primarily in North America) were then asked to detail their interest in purchasing an iPhone 6 for themselves or someone else in the future.
"We ask this type of question at the same time each year to get an early indication of the impact of the next iPhone," Golub told Benzinga. "You can see in the chart (where we asked about the 5S and the 5)…14 percent [are 'Very Likely'] and 26 percent are 'Somewhat Likely' to buy an iPhone 6, if and when it becomes available. [This] is the highest we've seen."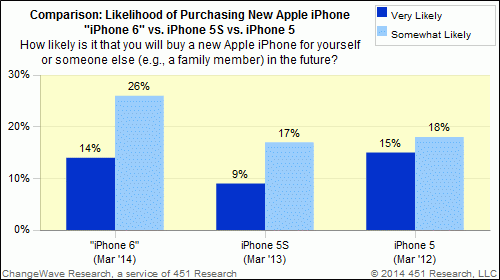 Image Credit: ChangeWave Research
"This is happening, importantly, in a more mature smartphone market in North America," Golub added. "Nonetheless, the speculation over a large screen iPhone is certainly resonating with consumers."
Samsung On The Rise
In addition to the iPhone 6 survey results, ChangeWave also released new data regarding the demand for competing smartphones. Not surprisingly, Samsung (OTC: SSNLF) took center stage.
"We're seeing Samsung have the most momentum," said Golub. "Tied obviously to the release of the Galaxy S5, they've bounced back considerably from the last iPhone release (when Apple essentially [took] away momentum in the market from other manufacturers). They've bounced back and are just a tiny bit higher than where they were a year ago, but they have set their highest level in terms of 'next 90 day smartphone demand.'"
Once again, larger screen sizes have helped drive this demand.
ChangeWave has been tracking phablet demand since 2012, and Golub said that trend "has only continued to gain strength."
Related: How Many Leaders Can Apple Live Without?
ChangeWave Open Enrollment
ChangeWave Alliance is currently adding new members (including business and technology professionals, as well as early adopter consumers) to its research network. Members will be asked to participate in brief online surveys; in return, they'll gain exclusive access to ChangeWave's data and research reports.
Prospective members can sign up at Alliance.ChangeWave.com. The company will stop accepting new members on April 30, 2014.
Disclosure: At the time of this writing, Louis Bedigian had no position in the equities mentioned in this report.
View Comments and Join the Discussion!
Posted-In: 451 Research Andy Golub Apple ChangeWave ResearchNews Rumors Success Stories Tech Best of Benzinga