Taco Bell Continues To Attack McDonald's As 'Old Fashioned'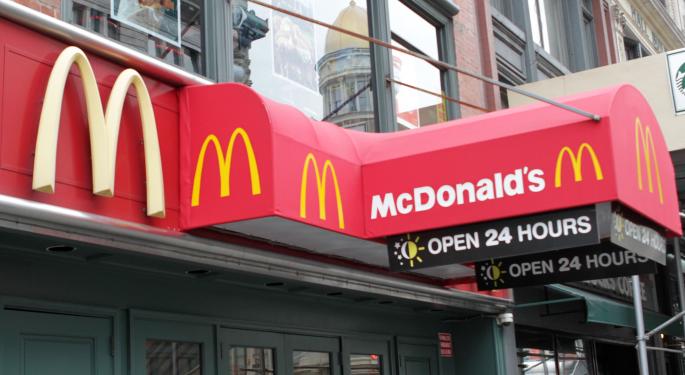 Yum! Brands (NYSE: YUM) continues to pit its Taco Bell brand against McDonald's (NYSE: MCD) in the breakfast arena for one good reason – market share. McDonald's owns 31 percent of the almost $32 billion early morning space, according to Technomic, and Taco Bell said it believed the company was vulnerable.
The latest salvo, like the others, used social media to portray McDonald's as out of touch and old fashioned. This time, a man with a mullet, singing a rhythmically awkward version of "Old McDonald Had a Farm" touts the benefits of switching to Taco Bell.
By the end of the spot the mullet is gone and so are many remnants of the man's 80's lifestyle, including his previous attraction to Egg McMuffins.
The point of the ad, Taco Bell Chief Marketing Officer, Chris Brandt said was, "Breakfast in general has been pretty boring—there hasn't been a lot of innovation out there. But people are in their routine in the morning and we needed something to disrupt that routine."
The use of social media including Twitter, Instagram, Facebook, and YouTube, has made these types of "attack" ads far more effective than they were in the past. The immediacy, customer participation through sharing the ads, and the buzz it has created makes the effort far more newsworthy than the simple airing of a commercial on television.
Related: McDonald's Comes Out Swinging, To Counter Taco Bell Breakfast Offerings
The data itself has become a story with firms like Topsy reporting a 75,000 spike in Tweets mentioning Taco Bell at one point, according to Time.
Absent these ads and the use of social media, Taco Bell's rollout of a breakfast menu to take on McDonald's would likely not be nearly as newsworthy. Whether the tactic will be effective or even whether the public will continue to find it entertaining remains to be seen.
Slate has already criticized the most recent ad, saying, "the joke is starting to get old." In addition, Slate said, the Taco Bell critique seemed misdirected since the Egg McMuffin is a classic and far from old-fashioned.
What really matters, of course, is the degree to which consumers decide to try a different drive-thru for breakfast. Chipping away at McDonald's foothold was never going to be easy and McDonald's would not give ground willingly. One sign of that was the company's free coffee giveaway in response to the earlier Taco Bell attack ad.
Although McDonald's did not immediately comment to USA Today on the latest Taco Bell commercial, Taco Bell said that company was "just getting started."
As CMO Brandt said, "We have to do things to grab attention. We're trying to position ourselves as the next generation of breakfast."
At the time of this writing, Jim Probasco had no position in any mentioned securities.
Posted-In: Chris Brandt Egg McMuffin Facebook free coffee Inc.News Events Media Best of Benzinga
View Comments and Join the Discussion!