Chaori Becomes First Modern Chinese Company To Default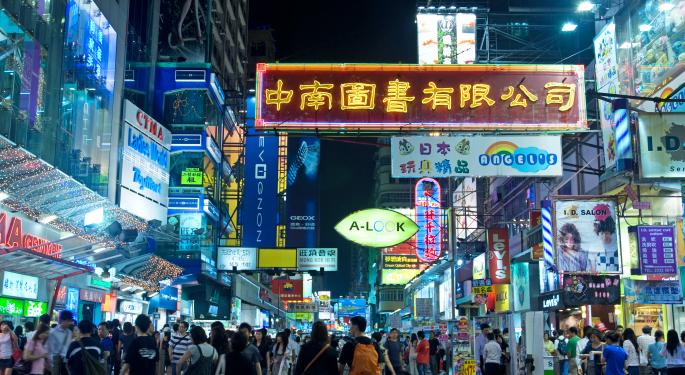 Analysts are pointing at recent bit of financial news from China, as a major landmark in the nation's modern economic history is afoot.
At issue is Friday's announcement that the Shanghai Chaori Solar Energy Science and Technology Company, a relatively small producer of solar panels, has become the first mainland Chinse company to default in the nation's domestic bond market.
A company official, quoted by The New York Times, said Chaori would fail to meet a deadline for an annual interest payment on a $163 million bond sold to investors in 2012.
What makes this event a relatively big deal, observers say, is that the Chinese government didn't come riding to Chaori's rescue with a last-minute bailout.
"The Chaori default goes to show the government will begin to let the market decide the fate of weak borrowers," Christopher Lee, managing director of corporate ratings for Greater China at S&P's in Hong Kong, told Reuters. "This test case indicates the government is addressing the moral hazard issue."
Related: 7 Of The Most Hated Stocks In The Market
Lee believes that there will likely be more "incremental but controlled," defaults, especially in China's metals, mining and shipbuilding sectors.
Analysts at Moody's Investors Service, meanwhile, see the Chaori default as "a wake-up call for China's bond market." In a research note quoted by the Times, Moody's said the news would help the People's Republic "introduce greater market discipline and advance the development of a risk-based bond market, in which pricing reflects the underlying credit risk."
According to Reuters, China's domestic bond market was worth $1.5 trillion at the end of last year – making it number three in the world after the U.S. and Japan.
S&P's, meanwhile, says overall debt in China reached an estimated 213 percent in 2013, up dramatically from 140 percent in 2007 – with corporate debt making up the lion's share of that overall total.
View Comments and Join the Discussion!
Posted-In: News Emerging Markets Commodities Politics Psychology Economics Markets Media Best of Benzinga