West Virginia Lawsuits Also Target Eastman Chemical And American Water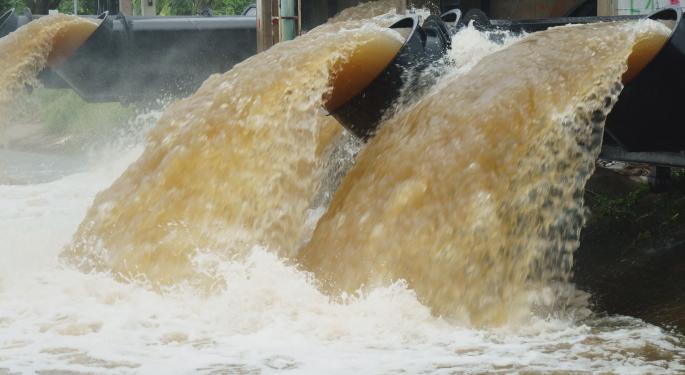 Lawsuits filed against Freedom Industries, the closely held company that stored a compound that leaked into the Elk River January 9, included two publicly traded corporations.
Also named as defendants in the lawsuits were Eastman Chemical (NYSE: EMN), manufacturer of the coal processing compound known as 4-MCHM, and West Virginia-American Water Co. a subsidiary of American Water Works (NYSE: AWK), the largest publicly traded water and wastewater utility company in the U.S.
According to the complaints, safety data sheets issued by Eastman did not reveal information about the carcinogenic and toxic components of certain chemicals used in the compound that leaked into the Elk River.
Plaintiffs said, "The foreseeable risks of harm posed by 4-MCHM could have been reduced or avoided by reasonable instructions or warnings."
A spokeswoman for Eastman, Maranda Demuth, told Bloomberg the lawsuit was without merit as it pertained to Eastman and that the company did not know of any studies that demonstrated the compound, known as 4-MCHM, was carcinogenic.
The complaint against West Virginia-American Water was that the company failed to do a risk assessment of possible pollution from the Freedom Industries facility, which was upstream from the utility's water intake on the Elk River.
Attorney, Daniel Becnel, Jr. said West Virginia-American may be liable if it can be demonstrated that company officials did not follow their own guidelines with regard to water safety.
Related: Wheeling Businesses Deliver Water to Victims of WV Chemical Spill
As of January 15, 25 lawsuits seeking group status had been filed in Kanawha County Circuit Court in Charleston, West Virgina.
Businessweek outlined the likely strategy plaintiffs' lawyers would take, first going after Freedom Industries, the source of the leak. They would try to show that Freedom did not act fast enough to warn about the seepage into the Elk River after nearby residents reported a strong licorice smell in the air.
Freedom, however, was only part of the picture. Attorney James Peterson, hosting a meeting of several plaintiffs' attorneys on January 13 said, "We're looking at punitive damages, 'piercing the corporate veil' at Freedom Industries, and holding the water company and the chemical manufacturer liable, too."
Plaintiffs' lawyers estimated that lost revenue, wages, and other economic costs would total at least a half-billion dollars, when added up. "This thing has disrupted life throughout the region," Peterson said, "and reminded us of the recklessness these companies engage in."
Meanwhile, Businessweek reported, West Virginia Governor, Earl Ray Tomblin, and others in his administration are known for criticizing what they call "excessive regulation of the coal and chemical industries."
Randy Huffman, cabinet secretary of the West Virginia Department of Environmental Protection has said that as far as his agency is concerned, MCHM is not a hazardous chemical and does not require special permits.
At the time of this writing, Jim Probasco had no position in any mentioned securities.
Posted-In: 4-MCHM American water works Charleston Daniel BecnelNews Legal Events Media Best of Benzinga
View Comments and Join the Discussion!