What's Next for the Ford SYNC AppLink?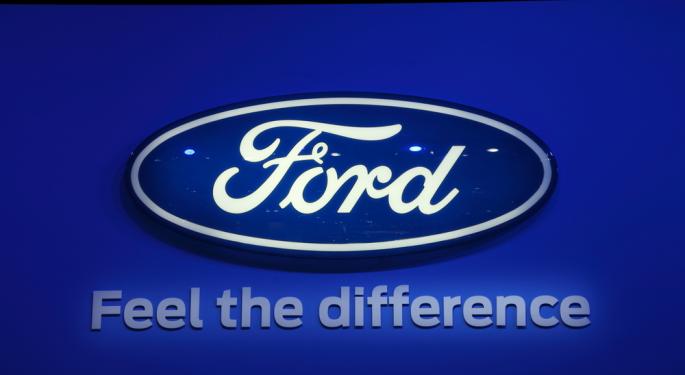 Ford (NYSE: F) and Domino's Pizza (NYSE: DPZ) teamed up this week to allow customers to order a pizza, using the Ford SYNC AppLink.
The two companies came together after Ford decided it was time for AppLink to enter the purchase category of apps.
"We're always looking at ways to kind of simplify the consumer lifestyle and their connectivity," Julius Marchwicki, global product manager for Ford SYNC AppLink, told Benzinga. "If there are applications that perform those tasks for them, we would certainly consider enabling them with AppLink so that consumers don't have to fiddle with their phone while they're in the drive-through or while they're driving, so they can simply use voice commands or the steering wheel controls or an in-vehicle display to kind of command their applications as they move forward."
Marchwicki said that Domino's was a "natural fit" for Ford, since both firms reside in southeast Michigan.
Strategic Categories
"When we look at AppLink, we look at very strategic categories of applications that we want to pursue," said Marchwicki. "The first ones were music, entertainment, news and information and location-based services. We've been looking to expand into the purchase category for sometime. Domino's kind of fits the purchase category consideration."
Ford's goal is to make it easier for consumers to use apps they already know and love.
"We have a pretty significant set of standards that's published at our developer website, developer.ford.com," said Marchwicki. "We're looking for applications that are relevant to the driving experience. In the categories that we've outlined, we want to make sure that the applications themselves are relevant to a user while they're driving."
The automaker has also worked hard to make sure that the apps aren't distracting. This includes the implementation of a lock screen that shows up on the display when a device is connected to the vehicle. As a result, the user won't be enticed to use the device itself while it is connected.
Related: Is Ford Open To More Startup And Technology Acquisitions?
"Beyond that, we've been generally very open in terms of the number or the type of applications that we have [within] our ecosystem," said Marchwicki. "All that really needs to be done is for a developer to access the developer website and create an application and send it our way. So long as it's not a game and it's not distracting and it's relevant to the driving experience, those are things that we would certainly consider for inclusion into the ecosystem."
Location, Location, Location
Ford is currently looking to expand its support for location-based apps. The company recently announced support for Parkopedia (a parking lot, parking garage and parking meter locator) and Parkmobile, an app that allows users to pay for parking using their smartphone.
"Those are going to be, I think, really big for consumers -- very relevant to the driving experience, and to the overall ownership of the vehicle," said Marchwicki. "Parking your vehicle is kind of an intrinsic part of owning a vehicle. I'd like to see us expand in some of the more social categories, connecting customers to one another.
Related: Ford Acquires Livio To Enhance In-Car Connectivity
"Giving users up-to-date traffic alerts, giving them the latest road conditions -- that's sort of the things that we like to see from the developer program come up and be part of our experience."
SYNC And MyFord Touch Will Continue To Thrive
Marchwicki said that while he is not Ford's marketing and sales expert, he believes that SYNC and MyFord Touch will maintain their popularity.
"Vehicles that are equipped with SYNC sell faster than those that don't have SYNC," he said. "There's always fleet customers or our large customers that order vehicles that don't have SYNC just to reduce the overall cost of their fleet. But I think, generally speaking, the percentage [of SYNC/MyFord Touch buyers] will continue to grow. I don't know if we'll ever see it at 100 percent. But it's always going to be in the high 80s to 90s because our customers are demanding this level of connectivity and this level of convenience and choice in our vehicles."
Cars And Tablets: Not Quite A Match Made In Heaven
Tesla's Model S features a large touch screen that looks like an oversized tablet.
With that in mind, Benzinga asked Marchwicki about the possibility of integrating tablets into a future vehicle. After all, a tablet provides many of the same features (maps, media, etc.) that consumers want from their in-car entertainment and information systems.
"There are car companies that are pursuing that," said Marchwicki. "We think there's a tremendous amount of innovation that we have left to do just with our own in-vehicle systems.
"For now, I think we're gonna be focused on just allowing you to bring in those devices and connect to them, but I'm not sure of where we'll head in the future as it relates to the overall vision of connecting a tablet to replace some of your in-vehicle functions. We want to make sure that you can turn on the heat or control the various in-vehicle functions if you forget your phone or tablet at home. That's part of the vision as well."
Disclosure: At the time of this writing, Louis Bedigian had no position in the equities mentioned in this report.
Posted-In: automotive Domino's domino's pizza Ford Ford SYNC AppLinkNews Tech Interview Best of Benzinga
View Comments and Join the Discussion!