Will Coffee Prices Continue to Tumble in 2014?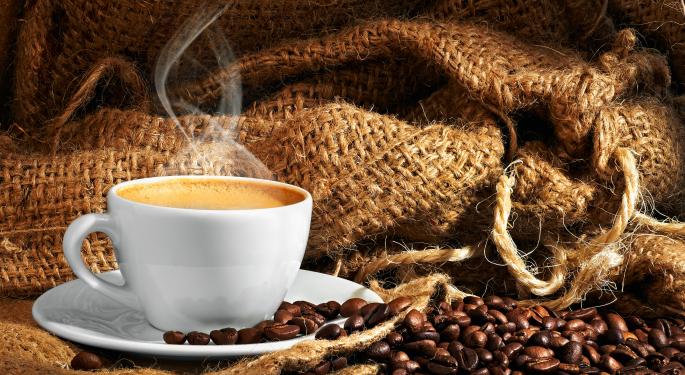 What will 2014 mean for the price of your daily cup (or two) of coffee? If you purchase that morning beverage or afternoon pick-up from your local barista, you probably won't see much of a change.
But a continuing oversupply of coffee on a global scale probably means supermarket and wholesale prices will continue to drop.
The Wall Street Journal reports coffees price fell 20 percent in 2013, down 49 percent since 2011.
A recent U.S. Department of Agriculture report, meanwhile, notes stockpiles are expected to rise in many coffee-producing countries, particularly in Brazil and Vietnam, while the demand from coffee-consuming countries remains "relatively flat."
And although an outbreak of "coffee rust" plant disease in Mexico and Central America is forecast to significantly reduce production in that region, any local decline, according to USDA, will be more than offset by coffee production elsewhere.
Related: A Look at Some 'Legit' OTC Stocks
There are also concerns that coffee production will continue to rise this year.
"I don't think we've seen the absolute low for prices," Sterling Smith, a futures specialist at Citigroup, told the WSJ. "There is a strong possibility that we will see record production in a new crop of coffee."
As previously reported on Benzinga, coffee over-production has been a boon to consumers of the high-end arabica beans that end up in the beverages java-drinkers purchase at chains like Starbucks (NASDAQ: SBUX), Dunkin Donuts(NASDAQ: DNKN) or Tim Hortons (NYSE: THI).
And, of course, a lower commodity price plus unchanged prices on the menu means a windfall for the coffeehouse chains – if they decide to not pass those savings on to their customers.
"The raw commodity, which is coffee, is going down. So your costs are going down, your revenues are staying about the same, which means your profitability is gonna go up," Duke University business professor Campbell Harvey recently explained on the American Public Media radio program, Marketplace.
Industry observers, meanwhile, are keeping a close watch on Brazil, the world's largest coffee producer, which could have another bumper crop in 2014 – and which, in turn, could keep coffee prices sliding south.
View Comments and Join the Discussion!
Posted-In: News Guidance Commodities Retail Sales Restaurants Markets Media General Best of Benzinga