Founder of DAS Trader Karen Gentile Discusses Dark Pools, Twitter & More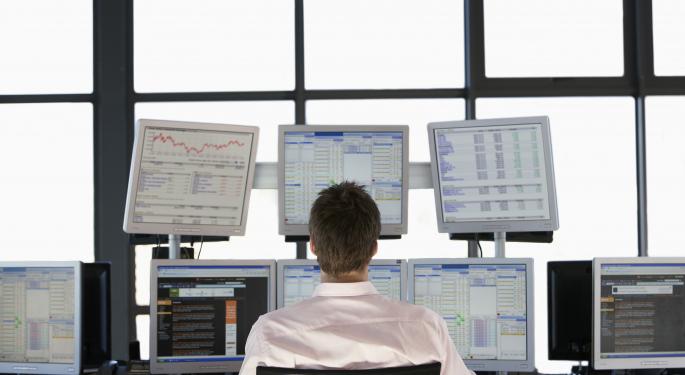 DAS (Direct Access Software) Trader is an industry leader in direct access trading technologies.
The company, founded 10 years ago by Karen Gentile, offers an end-to-end electronic trading solution to market participants of all sizes and expertise.
Benzinga had a rare opportunity to have a chat with Gentile to discuss her products and services, as well as a few other hot topics.
The company is best known for its DAS Pro trading platform, which "combines powerful features such as advanced analytics, multi-asset trading and portfolio management into a single trading platform. It also offers simple and intuitive market data and order entry panels, real-time streaming news and a customizable user interface." Users of the DAS Platform have access to trade on many light pools, dark pools, market makers and smart routes.
Gentile noted that DAS's servers are co-located at the NASDAQ exchange, while competing platforms might have their servers in the same city where their head office is located, which can be as far away as Chicago.
DAS maintains a direct presence in NYSE Euronext's STFI network, giving clients access to other international market centers. DAS' dark fiber line connects to major exchanges including Direct Edge and BATS, which results in a faster execution time. DAS is a NYSE Euronext Power Partners, TotalView NASDAQOMX Preferred Partner and is Platinum certified with NASDAQ OMX.
Gentile explained that her company serves a wide variety of clients, which includes active traders, proprietary trading groups, foreign broker dealers, clearing firms and institutional traders.
Related: Spotify Releases its Pricing Plan; Shares of Pandora Tumble
According to Gentile, the implementation of the Series 56 exam has negatively impacted parts of the U.S trading industry. She believes that the newly-created regulatory exam for proprietary traders has many drawbacks and its purpose has been flawed since it was first created.
Gentile believes that a grandfather clause should have been put in place for traders who have a proven record of being in compliance and in good standings with all exchanges and regulatory bodies. Gentile also believes that the Series 7 exam should have been expanded from a regulatory standpoint to give proper licensing to proprietary traders instead of creating a new set of exams.
Despite the regulatory changes that occurred that has negatively impacted many American-based traders, Gentile noted that 2013 was an extremely successful year for herself and the company.
Gentile rang the NASDAQ closing bell on May 10 as the company celebrated its 10th year of operation. Gentile rang the closing bell on October 18 at the New York Stock Exchange, as the company celebrated its inclusion in the NYSE Euronext Power Partners Program.
Gentile noted a growing trend she is noticing among many retail investors who make use of chatrooms and live news services as part of their trading strategy -- these traders communicate with each other and share trading ideas and collaborate amongst one another. Gentile believes this is a growing trend that will continue over the next several years as retail traders continue to grow in number.
When asked to comment on the proportion of pro traders to retail traders, Gentile said that several years ago the professional trader composed 80 percent of the mix, believing this number to have since decreased by 20 percent.
Gentile also shared her views on dark pools, given the growing debate on whether its widespread use provides an unfair playing field for retail "buy and hold" type of investors. Gentile noted that dark pools itself is not a bad thing and its purpose and advantages are often misunderstood. Institutional investors should not have access to these liquidity venues and should be used only amongst market professionals.
Gentile commented that IPOs continue to remain a "hot trading item" amongst her clients, particularly the heavily publicized IPOs such as Facebook and more recently, Twitter.
She also provided some insight and noted that investors shouldn't necessarily invest in companies that are "hot" -- investors should invest in companies that provide a familiar product or service.
Related: Anka Metcalf, Founder of TradeOutLoud.com, Keeps Upbeat Attitude on the Market
Gentile noted that her background and expertise is in the technology field, so she is more inclined to invest in a company whose technological products and services she understands and can relate to. Gentile urges investors to follow a similar strategy in an industry that is familiar, be it retail, technology or commodities.
She stays current with market news through Yahoo! Finance when timing and urgency is not an issue. She uses Benzinga when she requires market information in a more timely manner, noting that Benzinga's news service is accurate, easy to follow and delivered at a faster rate than many other news services.
Gentile views Twitter as one of the most important tools for traders, saying that it is evolving in to be a news service, and each user has the ability share information and news.
Pictures of food or cats are being directed away from Twitter and on to sites such Instagram, making Twitter "cleaner" for traders and investors. Twitter could also be a preferred mode of communication, as the social media platform has the potential to reach a larger audience in a cheaper and more effective manner.
Gentile shied away from offering her 2014 forecast for the major indices, and for good reason -- she is in the trading business and dedicating resources towards analyzing market trends and other factors to predict future direction doesn't serve a purpose in her line of work.
Traders that are interested in the DAS Trading platform can check out the company's website at www.dastrader.com.
View Comments and Join the Discussion!
Posted-In: BATS Dark PoolsNews Entrepreneurship IPOs Markets Interview General Best of Benzinga