IBM's Watson Will Be Open To Public On The Cloud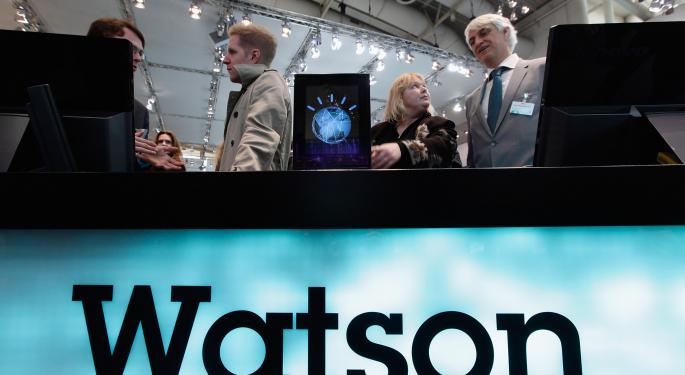 IBM's (NYSE: IBM) supercomputer, Watson, is evolving faster than many imagined.
From game show contestant, to medical consultant, and soon, running an information booth on the Internet through what the company calls the Watson cloud service.
Gizmodo reported Thursday that IBM announced Watson would be made available to developers in 2014. A new open API, the company said, would allow programmers to write code that taps into Watson's natural language abilities.
In a nutshell, developers would be able to ask Watson complex strings of questions and get answers in real time. The notion of making Watson publicly available isn't new. IBM has considered putting their Jeopardy!-winning computer on the cloud before but this is the first time developers will have carte blanche with how the computer would be used.
Related: IBM's Watson Coming to Smartphones Soon
According to Gizmodo, developers will need to contract with IBM in order to "speak" to Watson, but that's about it. The process through the API is simple. Questions would be sent to Watson in real time, using natural language. Answers would come back along with links to content Watson considers relevant.
To sum up: Not only do you get answers to your questions, you get footnotes as well!
So far, three developers have signed contracts with IBM. One of them plans to use Watson to add a personal-shopping feature to V.F. Corp's (NYSE: VFC) The North Face's website – hardly a stretch for the world's smartest super computer.
The move is part of IBM's push to allow programmers to use the capacity of Watson to create applications that take advantage of the computer's artificial intelligence capability.
Work has already been started to use Watson in health care settings. Now the company wants to expand availability and use to other areas.
Rob High, an IBM fellow and Watson's CTO, told IDG News Service, "We've been developing, evolving and maturing the technology. It's stable and mature enough to support an ecosystem now. We've become convinced there's something very special here and we shouldn't be holding it back."
One major accomplishment has been in the area of downsizing the physical footprint of the computer's hardware. High said Watson is dramatically smaller than it was during its Jeopardy! appearances.
IDG News Service said IBM would work with a small number of partners on the Watson cloud service initially. Each will develop specialized applications. It seems to be only a matter of time before the power of Watson will literally be at the public's fingertips.
At the time of this writing, Jim Probasco had no position in any mentioned securities.
View Comments and Join the Discussion!
Posted-In: API cloud CTO IBM Internet Jeopardy!Tech Media Best of Benzinga