Netflix Brings 'Dexter' Back From Showtime; HBO Looking To Combat?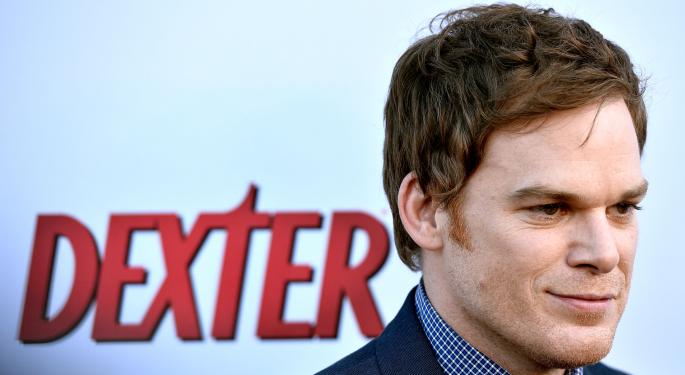 Halloween will bring one of television's most sadistic characters to the online video giant.
Netflix (NASDAQ: NFLX) and CBS (NYSE: CBS) announced a deal that will make the first four seasons of Showtime's Dexter available beginning on October 31, with the final four seasons coming on January 1, 2014.
"SHOWTIME has created one of the signature programming brands on television, and this agreement for 'Dexter' further demonstrates the value of this content in the marketplace while expanding the show's passionate fan base to a whole new online audience," said Scott Koondel, CBS Chief Corporate Content Licensing Officer.
The popular show originally ran from 2006-2013, earning 23 Emmy nominations. Michael C Hall won the 2010 Golden Globe for Best Actor for his portrayal of the titular character.
Despite its relatively new popularity, the video-on-demand- service now has more subscribers than HBO. The ease Netflix's now 40 million subscribers can watch its available movies, documentaries and television shows has become a big concern for broadcast, cable and premium networks. CBS/Showtime have crossed that bridge before.
In 2011, Showtime amended a deal with the streaming video service. When Netflix announced they would be producing their own original programming, Showtime pulled its available shows from the company's Internet stream availability. Some of Showtime's current shows, such as Homeland and Nurse Jackie, are still available on Netflix, but only through DVD-by-mail.
Netflix outbid Showtime in August when they reached a deal that will bring the Weinstein Company's films exclusively to Netflix beginning in 2016. The Oscar-winning production company currently has a deal with Showtime that runs out in 2018.
Comcast (NASDAQ: CMCSA) appears to be making moves in the streaming service, bringing premium cable giant HBO into the mix. DSL Reports first reported the "Internet Plus" deal, and that has picked up some serious steam.
Unlike the HBO Go service, Internet Plus will offer Comcast's video-on-demand service XFINITY Streampix and HBO. The price ranges from $40 to $50 per month for the first 12 months depending on your location, moving up to $70-80 per month after the first year.
Comparatively, Netflix can be purchased for just $7.99 per month.
Posted-In: Dexter Emmys Scott Koondel The Weinstein CompanyNews Topics Reviews General Best of Benzinga
View Comments and Join the Discussion!