McDonald's Fights Slow Sales By Changing Dollar Menu Name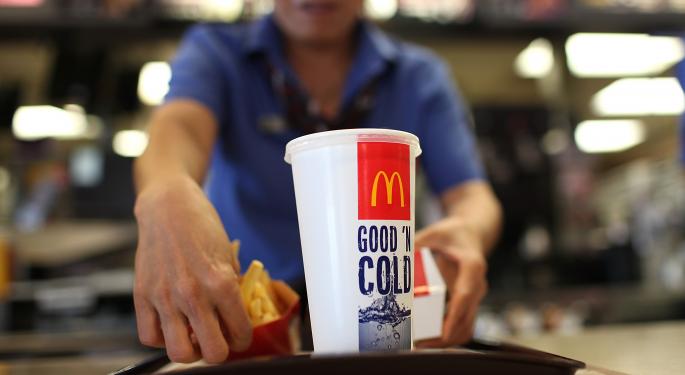 After a year's worth of disappointing sales, McDonald's (NYSE: MCD) has decided to try a little slight of hand.
The fast food giant's Dollar Menu will now be called the "Dollar Menu and More." As in, "not everything on the menu will cost a dollar." Some items will be $2. Some even $5.
The new menu rolls out November 4 with ads starting November 11, according to Advertising Age.
Who knows? It might work. The idea, of course, is to invoke potential cost savings with the phrase "Dollar Menu," plus the truth-in-advertising disclaimer "And More." It has worked in dollar stores, where consumers are often hard pressed to find anything besides small bags of balloons for a buck.
McDonald's CEO, Don Thompson, has tried a variety of measures to boost sales. Top management has been changed, new menu items have been added, and now the menu content (and pricing) is being played with.
Related: Taxpayers Foot $1.2 Billion Public Assistance Bill for McDonald's Employees
All this comes as the company warned Monday that sales at restaurants open more than a year would be flat in October and that the woes would continue in Q4. A combination of stiff competition and slow economic growth are to blame, according to McDonald's.
Not everyone agrees with the company's assessment. Hedgeye Risk Management restaurant analyst Howard Penney tweeted this:
Its now been 4 quarters of disappointing sales for $MCD! When will the co transition from blaming the economy to internal issues?

— Howard Penney (@HedgeyeHWP) October 21, 2013
In addition, Penney told Reuters that the company's high-profile beverage expansion hid the fact that core items like hamburgers and french fries were not selling.
Worldwide sales at McDonald's restaurants open at least 13 months gained just 0.9 percent in the third quarter. These numbers fell short of analysts' estimates.
McDonald's new "Dollar Menu and More" will replace the "Extra Value Menu," an attempt, perhaps, to communicate savings to consumers more clearly.
Fast food rival, Wendy's (NASDAQ: WEN) performed its own low price menu surgery in January, renaming its "99 Cent Menu" to "Right Price Right Size Menu." As with McDonald's, the name change allowed Wendy's to boost the price of some items and still tout the notion of value to customers.
McDonald's latest new food promotion features Mighty Wings – just in time for football season. CEO Thompson, on the earnings call, said the item has not exactly been a raging success.
According to Thompson, "One dollar per wing was still not considered to be the most competitive in the current environment."
At the time of this writing, Jim Probasco had no position in any mentioned securities.
Posted-In: 99 Cent Menu Dollar Menu Dollar Menu and MoreNews Restaurants Events Media General Best of Benzinga
View Comments and Join the Discussion!