Consumer Reports Shows Droid and Samsung Are Loved More Than New iPhones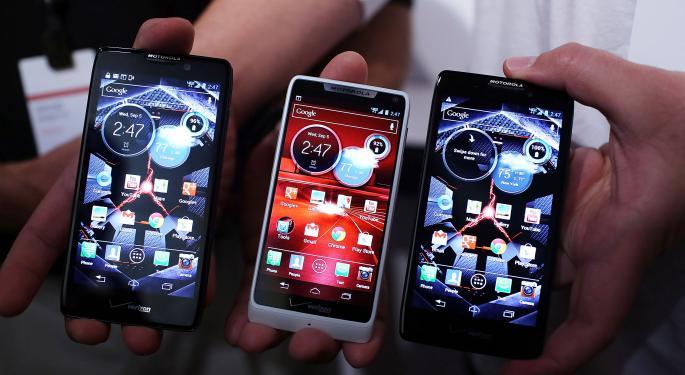 In a new report out Wednesday, Consumer Reports said Apple (NASDAQ: AAPL)'s new iPhone 5S "Tops the already great iPhone 5 with a surprisingly reliable fingerprint reader, a faster processor, and better-than-ever camera."
So far, so good.
In addition, the not-for-profit ratings organization said, "The affordable iPhone 5c is a compelling offering for budget-minded buyers."
So, the new iPhones must be top-rated, right? Wrong.
CR testers conceded both new devices were better performers than their predecessors, with longer talk times, and other improvements thanks to Apple's new iOS7 operating system. Nonetheless, shorter battery life, smaller screens, and less sharp displays than the competition were cited as among the reasons for concluding the latest Droids from Google (NASDAQ: GOOG)'s Motorola Mobility, along with Samsung (OTC: SSNLF)'s flagship Galaxy S4 deserved to be scored higher.
Apple can't seem to catch a break from Consumers Union, going back to the organization's "We can't recommend" rating of the iPhone 4, which suffered from antenna problems.
Related: Sensor Issues In Apple's 5S May Be Linked To A New Supplier
That said, the magazine did praise the Touch ID fingerprint reader, saying it was a "heck of a lot easier than typing a PIN or password." Consumer Reports also liked the new 5S 8-megapixel camera. The magazine said it was one of the few tested capable of taking excellent-quality pictures.
The iPhone 5C garnered slightly less enthusiastic praise, mostly having to do with the fact that it was affordable and comes in a "variety of eye-catching colors." Also noted was the fact the 5C is a half-ounce heavier and 15 percent thicker than the iPhone 5.
As for the Droid Maxx, Consumer reports called it a marathon performer, thanks to its 3,500mAH battery, which helped the phone deliver more than 24 hours of talk time per charge.
Both the Droid Ultra and Droid Mini were judged to have lower, but still exceptional battery life. All three new Droid phones were praised for the fact they were optimized for Google Now with touchless control capability and Active Notifications, which allow users to check calendar, clock, mail, messages and more, even when the display is turned off.
Samsung's Galaxy S4 retained its position as the top-rated tested smartphone, a position it has held since it first premiered earlier this year.
Based on CR's latest results, it sounds like Apple's iPhone offerings are only a longer-lasting battery and slightly larger screen away from a top rating. Until those improvements happen, however, Consumer Reports said you would be better off going with Android.
At the time of this writing, Jim Probasco had no position in any mentioned securities
Posted-In: 8-megapixel camera Active Notifications Android Apple Consumer Reports Consumers UnionMedia Reviews Best of Benzinga
View Comments and Join the Discussion!