Intel-Backed Startup Builds Revolutionary Motion Controller Without Cameras Or Wires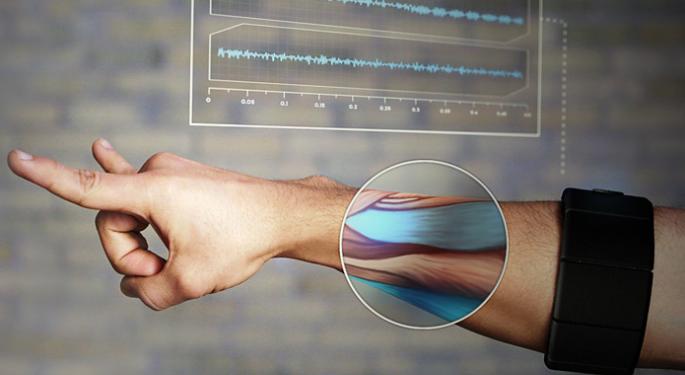 Thalmic Labs, a technology startup in Kitchener, Ontario, has introduced a unique alternative to traditional gesture-based control systems.
Instead of using a camera, a sensor bar or some other familiar system, Thalmic Labs has produced a controller that recognizes the signals sent by the user's muscles.
"We had a cool idea that, instead of using a vision-based system -- like Microsoft (NASDAQ: MSFT) Kinect or the Leap Motion controller -- we could actually develop an armband that would read the signals in your muscles and be able to determine what you're doing with your arms and hands just based on that," Aaron Grant, co-founder of Thalmic Labs, told Benzinga.
Grant and the other co-founders -- Stephen Lake and Matthew Bailey -- began to work on this concept in May 2012. They built a "crude prototype" of the device, which initially had "lots of wires" hanging off the arm. The device may have been in its infancy, but it proved that their idea was more than fantasy.
Thalmic Labs made its first hire later that year in November 2012. Since that time, the team has grown to nearly 40 employees. They are now gearing up for the launch of the company's first product: MYO.
"The name comes from the underlying technology, which is called electromyography, or EMG for short," Grant explained. "It's a technology that is similar to electrocardiography (ECG), which measures the electrical activity of your heart. It's the kind of machine that you would see in the hospital. So it's a very similar technology, and that's what we use to measure the muscle signals and figure out what the user is doing with their arms and hands and be able to use that as a control input for your smartphone, laptop or tablet."
Thalmic Labs can build a "ton of different applications" into MYO. They range from entertainment (video games) and general use (navigating/controlling a computer) to more specialized applications that could be much more advanced.
Related: Is Ford Open To More Startup And Technology Acquisitions?
"In the medical field it could be potentially used by a surgeon in the OR who needs to navigate through some diagnostic imagery but can't actually touch anything because they're scrubbed in and they're in a clean environment," said Grant.
It could also be used to analyze a user's golf swing, but that is only a concept at this point.
Unlike other gesture-based controllers, MYO can recognize a wide array of hand gestures. If a user is making a fist, for example, MYO will recognize that. MYO can also tell when a user's thumb and index finger are touching, when a thumb and middle finger are touching, when a thumb and ring finger are touching, and so on. The device differentiates between each of those poses.
If a user draws a circle in the air, MYO knows if it was drawn clockwise or counter-clockwise.
MYO also features a nine-axis motion sensor.
"[There's a lot] of flexibility in terms of what can be done, what can be recognized," said Grant.
MYO is not limited to one arm either. Developers could make applications that allow two MYOs to be used simultaneously -- one for each arm. Grant said that it could theoretically work on a person's leg if it were large enough (the device is likely too small to fit most adult legs). But thus far Thalmic Labs has not tested it with legs -- only with arms.
The armband will not ship until early 2014, but when the pre-order program began earlier this year, the company sold more than 25,000 units in just one month. Grant said that Thalmic Labs will not charge any credit cards until the device has shipped, however. While the company intends to ship on time, it does not want to make anyone pay early in case it is forced to postpone MYO's release by a month or two.
How It Works
"This device, it's a slim armband that you wear on your forearm, which is where the bellies of the muscles are that control the movement of your hand and fingers," said Grant. "Essentially you just slip it on your arm, and from there it can recognize all the different motions and gestures that you do with your hand and fingers."
MYO has processing power on board the armband and communicates with other devices via Bluetooth low energy. iOS, Android, Windows and Mac devices will be supported at launch. Thalmic Labs will ship MYO with a USB dongle to plug into the latter two devices, just in case the user's computer does not have Bluetooth built-in.
"Our goal is to make it really easy and as intuitive as possible," said Grant. "Lots of people use their hands to gesture when they're talking. I think it's pretty natural to use your hand to control things."
Thalmic Labs is defining a "best practices and standards and ways for interactions" so that developers can create gestures that perform the same task regardless of the application. If this works out as planned, Grant said that "once someone learns how to interact with one thing in the MYO, they [will be able to] figure out, quite rapidly, how to interact with everything else."
Related: Former Goldman Sachs Exec Wants To Revolutionize An Industry Silicon Valley Ignored
Commercial Embellishment
Grant admitted that its YouTube clip (embedded above in this article) was somewhat embellished -- not because MYO could not perform those actions, but because they were not integrated when the video was made.
Thalmic Labs has now implemented some of those features, including the helicopter (Parrot AR Drone) controls. In fact, the company recently demonstrated how it works during a live presentation.
To control the helicopter, Grant said that users simply tilt their arm forward, mimicking the aircraft's movement. There are also gestures for takeoff and landing.
At one point Thalmic Labs allowed users to perform an aerial flip just by snapping their fingers. But these features are still being tweaked, so the controls may not be set in stone.
MYO could be similar to a video game controller in that users may be able to adjust the controls that perform each action. For example, a 3D Studio Max user may be able to download a software plugin that makes it possible to change MYO's controls.
Partnerships
In June Thalmic Labs received $14.5 million in a Series A led by Spark Capital and Intel Capital, the investment arm of Intel (NASDAQ: INTC).
The Thalmic Labs team has met with the developers behind the Meta 1, a unique augmented reality headset that could dethrone Google Glass (NASDAQ: GOOG).
Thalmic Labs has met with other companies as well, but Grant said that the company is not yet ready to discuss any partnerships that may (or may not) be in the works.
Disclosure: At the time of this writing, Louis Bedigian had no position in the equities mentioned in this report.
Louis Bedigian is the Senior Tech Analyst and Features Writer of Benzinga. You can reach him at louis(at)benzingapro(dot)com. Follow him @LouisBedigianBZ
Posted-In: Aaron Grant Google IntelNews Success Stories Startups Tech Interview Best of Benzinga
View Comments and Join the Discussion!