Google's Eric Schmidt Says Android Security Beats iOS (GOOG)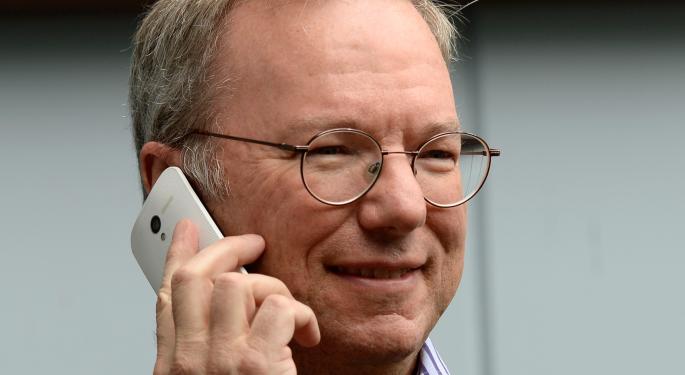 At the Gartner (NYSE: IT) ITxpo Symposium Monday, Google (NASDAQ: GOOG) Executive Chairman, Eric Schmidt said Android was a more secure OS than that of Apple's (NASDAQ: AAPL) iPhone.
The resulting laughter was palpable.
Schmidt apparently was serious. This despite the fact that 79 percent of all mobile malware threats in 2012 were directed at Android, according to a Public Intelligence and a Department of Homeland Security report published in August. By contrast, iOS suffered a microscopic 0.7 percent of malware threats in 2012.
According to MacRumors, security is a major concern for business users and because of this, as much as 77 percent of mobile activations in the enterprise market are iOS.
The Homeland Security report cited several security threats to the Android OS including SMS (text message) Trojans, rootkits and fake Google Play domains.
The report concluded that Android's status as the most widely used mobile operating system in the world makes it a primary target for malware attacks. In addition, the report cited the fact that Android's open source architecture and the fact that there are so many older versions of the OS in use make it especially vulnerable.
Neither the DHS nor the FBI went so far as to say Android shouldn't be used, but did suggest police, fire and other emergency responders consider the issues raised by the report in choosing mobile operating systems.
Related: Eventually Google Plans to Deliver Before You Order
Schmidt appeared to make the argument that precisely because Android has over a billion users it has undergone unprecedented real-world security testing. As to the argument that the Android OS is fragmented, Schmidt said that simply isn't true.
"With Android we have an agreement for vendors that you keep the Android stores compatible and that is a great breakthrough for Android," Schmidt remarked at the symposium.
Google has clearly been hard at work on Android's security, according to ZDNet. Jelly Bean 4.3 is the most secure version of the OS yet. In addition, new features have been developed that work with almost all currently used versions of the OS.
Finally, Schmidt told symposium participants, in the future, no OS would be considered secure and security would be individualized on a per app basis for each mobile user.
At the end of the session Schmidt said, "You will be happier with Gmail, Chrome and Android more than you can possibly imagine."
Cue more laughter?
At the time of this writing, Jim Probasco had no position in any mentioned securities.
View Comments and Join the Discussion!
Posted-In: Android Apple Chrome department of homeland security DHSNews Events Media Best of Benzinga