Apple May Be Working On a Hybrid iPhad (AAPL)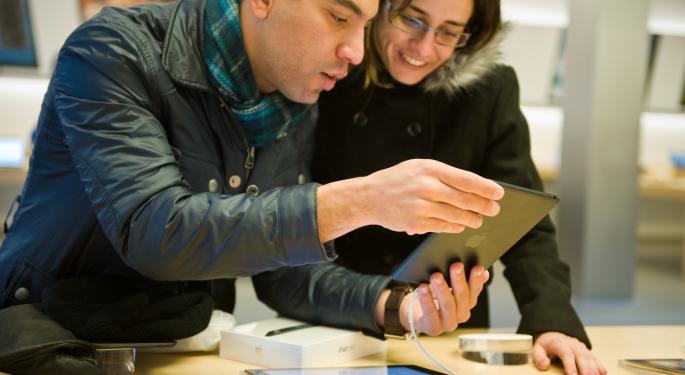 Apple (NASDAQ: AAPL) is known for innovation.
When it comes to smartphone screen size, however, not so much.
While competitors like Samsung (OTC: SSNLF) offer smartphones in a variety of sizes, Apple has kept the iPhone screen size in narrow focus with the largest, the iPhone 5, a mere 4-inches.
All that might be changing according to The Wall Street Journal. Sources told the newspaper Thursday that the Cupertino, California company is in the process of evaluating the notion of iPhones in a variety of screen sizes ranging from 4.8 inches to as large as six inches.
If a six-inch iPhone becomes reality, it would trump Samsung's new Galaxy Note 3 at 5.7 inches. Interestingly, the new Samsung phone is widely considered a hybrid phone-tablet, putting a larger iPhone in the same category. As part iPhone and part iPad, what would it be called? An iPhad?
All this speculation comes days before Apple is set to unveil a new high-end iPhone as well as a low-cost model expected to make the company more competitive in emerging markets. Both of those phones will likely retain a traditional Apple screen size.
Related: Apple Patent Suggests iPhone Smart Home Remote
Clearly, Apple is changing strategies in its ongoing, often contentious, battle for market share with Android makers in general and Samsung in particular. Currently the Korean electronics manufacturer is well ahead of Apple in the smartphone market.
Apple worldwide smartphone sales fell from 19 percent of market share to 14 percent in Q2 versus a year ago. At the same time, Samsung's share grew from 30 percent to 32 percent, according to Gartner.
These numbers spell out why Apple might be willing to break from its traditional smaller "screen-size" mold, according to The Los Angeles Times. As the newspaper noted, late Apple co-founder, Steve Jobs was strongly opposed to an iPhone with a screen size larger than 3.5 inches. The four-inch iPhone 5, of course, broke that barrier.
Apple has tested different smartphone screen sizes in the past. The difference, this time, appears to be the fact that Apple "appears more willing to move ahead than in years past" according to sources who spoke to The Wall Street Journal.
In July, Fox News reported that Apple suppliers had indicated the company was in the process of testing larger screens for both its iPhones and tablets. In addition to larger smartphone screens, sources said the company had asked for prototype designs for an iPad with a screen size just under 13 inches. Currently, the iPad has a 9.7-inch screen.
Whether the "bigger is better" mantra takes a foothold at Apple is not clear. As it is with most technology companies, Apple is known for experimenting with a large variety of new ideas before settling on the path it will take.
At the time of this writing, Jim Probasco had no position in any mentioned securities.
Posted-In: Apple Cupertino Galaxy Note 3News Rumors Events Tech Media Best of Benzinga
View Comments and Join the Discussion!