You'll Never Believe That America's Favorite Coffee Is This Brand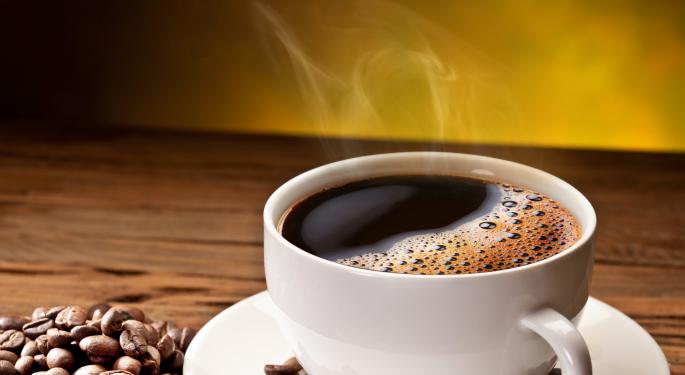 If your favorite morning "Cup of Joe" carries the name Starbucks (NASDAQ: SBUX), Green Mountain (NASDAQ: GMCR), or Maxwell House, a Kraft (NASDAQ: KRFT) brand, be advised, you are in the minority when it comes to taste in coffee.
America's favorite coffee, once again, is Folgers according to Bloomberg. Folgers is manufactured by JM Smucker (NYSE: SJM) who, with the help of Rockapella,taught coffee drinkers that "The best part of waking up is Folgers in your cup." Apparently, JM Smucker knows what it's talking about.
With a 15.6 percent share of the U.S. market by volume, from May to July, based on data compiled by Bloomberg, Folgers comes in well ahead of the competition. Maxwell House came in second with 10 percent. Green Mountain took just 4.3 percent and Starbucks only 3.3 percent.
JM Smucker also packages Dunkin' Donuts (NASDAQ: DNKN) coffee and that brand grew by 6 percent during the same period. Smucker CEO, Richard Smucker, in an earnings call said Hispanic brand, Café Pilon, which Smucker purchased in 2011,also made "solid gains."
JM Smucker's total U.S. coffee sales were $2.3 billion last fiscal year, up from $1.9 billion in fiscal 2011.
According to the company, much of the credit goes to Folger's popular online jingle contest that ended in June. After combing through thousands of entries, contest officials chose 10 finalists. The public voted youthful North Carolina musician, Sawyer Frye and his brothers the winner.
JM Smucker COO, Vincent Byrd, emphasized the significance of the contest saying, "This very successful event continues to utilize digital platforms to expand the reach of the Folgers brand among millennial consumers."
The good news caught the attention of Wall Street, most recently Jefferies analyst, Thilo Wrede, who reiterated a Hold rating on the company and raised the price target from $98.00 to $101.00 Thursday.
Related: UPDATE: Jefferies Raises PT on J.M. Smucker Following Good Results, Lowered Guidance
Earlier, according to Zolmax, analysts at KeyCorp raised their price target on JM Smucker from $110.00 to $125.00. This was on Aug. 7. Zacks reiterated a neutral rating on Fri. Aug. 2 and now have a $119.00 PT on shares of the company. Analysts at Deutsche Bank raised their price target from $109.00 to $117.00 July 25.
As of noon, Friday, JM Smucker shares were up just under one percent or $0.86 at $108.35.
At the time of this writing, Jim Probasco had no position in any mentioned securities.
View Comments and Join the Discussion!
Posted-In: Café Pilon Cup of Joe Deutsche Bank Dunkin' DonutsNews Retail Sales Events Media Best of Benzinga