How Much Does It Cost To Develop A New Drug?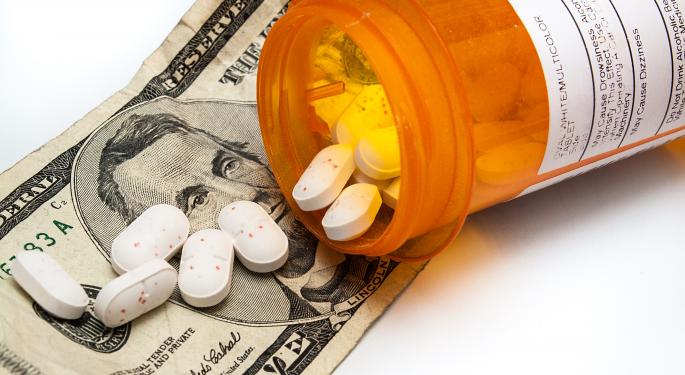 Don't expect to get a direct answer from any of the big pharma firms, but in the world of big data, the answer, or something pretty close to answer, was found by doing some simple math.
Last year, Forbes columnist Matthew Herper went back to the basics and simply divided each company's spending over the course of 15 years by its number of new drugs.
To be fair, his math wasn't quite that simple but it was pretty close. He found that companies that launched more than three drugs spent $4.2 billion and for those that launched more than four, the cost went up to $5.3 billion. On the other end, a company that develops one drug only spent an average of $351 million.
He looked at spending from 98 different companies and found, not surprisingly, that many of the companies that had the most money, used the most to develop each drug. Although Abbott (NYSE: ABT) topped the list at $13 billion, a significant portion of the expense went towards medical device research.
Related: Eli Lilly Soaring After Positive Cancer Drug Data
Number two on the list, Sanofi (NYSE: SNY) spent $10 billion and number three, AstraZeneca (NYSE: AZN) spent $9.5 billion.
But there are others that seem to do a more efficient job. Bristol-Myers Squibb (NYSE: BMY), which developed nine drugs, spent $3.3 billion making it #22 on the list. Gilead (NASDAQ: GILD) spent $1.8 billion for each of its three drugs and Genzyme only spent $963 million for each of its five drugs.
But Herper cautions that an apples to apples comparison isn't a good way to use the data. First, those companies that spend less on a drug often get one of the pharma giants or large foundations to foot a significant portion of the bill. Second, R&D costs come with some lucrative tax advantages giving companies incentive to inflate the numbers.
Next, once a drug is approved and on the market, there are continued costs of monitoring its safety. According to one article, Johnson & Johnson (NYSE: JNJ) uses close to 1,000 people in their safety infrastructure—a workforce many times larger than some of the companies that spend a fraction of its $5.2 billion per drug R&D costs.
Finally, there's a large degree of basic luck. Some small companies will take their drug all the way to FDA approval the first time despite statistics that show 19 out of 20 drugs in development will never see the light of day.
Disclosure:  At the time of this writing, Tim Parker had no position in the equities mentioned.
Posted-In: Abbott bristol-myers squibb Forbes Gilead Johnson & JohnsonNews FDA Global Best of Benzinga
View Comments and Join the Discussion!