Eli Lilly Soaring After Positive Cancer Drug Data (LLY)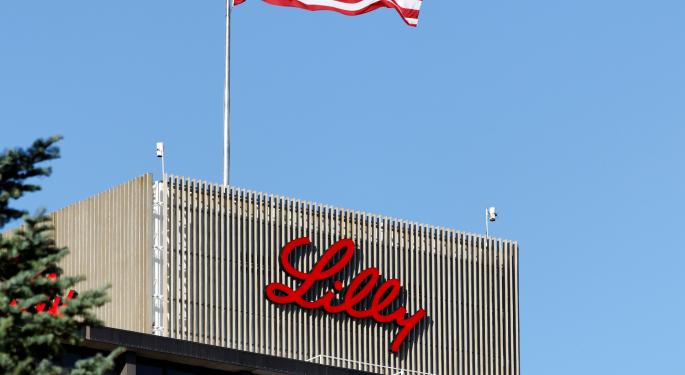 It's always good news when medical research moves a little closer to winning the war on cancer, and from the perspective of investors, it's not such a bad outcome when it results in a five percent move in the price of the company's stock.
That's exactly what happened Tuesday morning. In a press release, Eli Lilly (NYSE: LLY) announced that a Phase III study of Necitumumab met its primary endpoint of overall survival.
Biotech and pharma press releases can be about as easy to read as a mortgage or sadly, your last cell phone contract so here's some plain English.
Eli Lilly has been developing a drug for the treatment of stage IV metastatic squamous non-small cell lung cancer. This is an advanced cancer that is very serious. The company designed a study, called the SQUIRE study, which set a goal—called an endpoint—of increased overall survival. If patients taking the drug survived longer than patients who didn't, the goal or endpoint would be met.
Lilly announced that necitumumab, taken with two other cancer drugs, gemcitabine and cisplatin, increased overall survival when compared with patients who only received chemotherapy.
Related: UPDATE: Eli Lilly Posts 31% Rise In Q2 Profit, Lifts Full-Year Outlook
Also of note is the fact that this was a Phase III study. Before a drug is approved in the United States, it has to go through a series of steps. The most notable are the three phases of study. Phase I is designed to make sure the drug is safe for human use and uses healthy volunteers as test subjects.
Phase II uses patients with the condition the drug is meant to treat. The primary purpose is to see if the drug does what it's supposed to do. If it is supposed to help control asthma, the Phase II studies have to show evidence that it's effective for that condition.
Phase III determines if the drug is better than other treatments currently on the market. If a drug makes it to Phase III, the developer often works with the FDA to design Phase III studies. This helps the drug's chances of gaining FDA approval.
Since the SQUIRE study announced Tuesday was a Phase III trial, that makes this announcement a big deal and that's why the stock was soaring in the pre-market.
It still has to gain FDA approval but Eli Lilly has gone through the process enough times to know how it works. The chances of approval are high and that has the market excited.
Disclosure: At the time of this writing, Tim Parker was long Eli Lilly
Posted-In: cancer eli lilly Necitumumab Phase IIINews FDA Best of Benzinga
View Comments and Join the Discussion!