Are Investors Worried About Amazon's Kindle Fire Flop?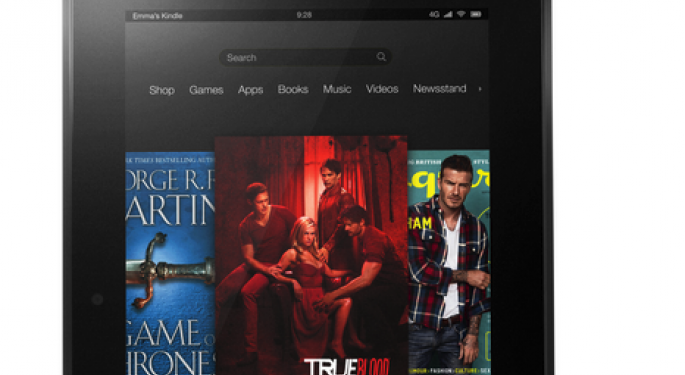 Amazon (NASDAQ: AMZN) has sparked a bit of controversy among the tech community after offering two $50 discounts for the Kindle Fire HD 8.9" this week.
The first appeared on Monday and was open to the public. The online retail giant gave consumers the chance to enter a promo code and save $50 on any version of the full-size tablet. There was a catch, however. Consumers who wish to return the device will be hit with a $50 return fee.
Now Amazon is offering the $50 savings to members of its Amazon Moms program, which is essentially a bonus for parents and caretakers who sign up for Amazon Prime. Members receive 20 percent off subscriptions for diapers and wipes. There is a free version as well, but it only provides discounts to select items.
Amazon is also providing mothers with discounts for the seven-inch Kindle Fire ($20 off) and Kindle Fire HD ($25 off). While these are great deals for consumers, tech bloggers are questioning the motive behind the temporary price cut.
"Amazon had expected Monday's 8.9-inch Kindle Fire HD sale to clear out significant inventory," Gizmodo's Brian Barrett wrote today. "That it's running the same promotion (albeit on a smaller scale) suggests that perhaps that goal wasn't met."
Android Community's Dave LeClair concurs with that assessment. "It seems that the inventory they moved from Monday's sale was not sufficient, so this sale seems like a further effort to move some stock."
On Monday NY Daily News reporter Jenny Che also expressed concern with Amazon's surprising sale.
"The 8.9-inch model only came out a month ago, and despite the retailer's hook that supplies would be limited, Kindle Fires still appeared to be readily available as of 4 p.m.," she wrote. "We wonder if there's something that Amazon isn't telling us. Of course, maybe they're just being nice."
Millennial Media released a study this week that claimed the daily ad impressions incurred by iPad Mini users were significantly higher than those of the Kindle Fire. Millennial Media believed that this was a sign that the iPad Mini may be selling faster than the Kindle Fire did when it was first released.
Whatever the reason for the sale, investors do not seem to be concerned. Amazon is currently trading up nearly one percent, adding to the one-month gain of more than 10 percent. The company has gained nearly 16 percent over the last six months. Year-to-date Amazon is up more than 40 percent.
While these discounts may indicate that Amazon is trying to sell more tablets before Christmas, it is not proof that the Kindle Fire has flopped. Without any concrete sales figures, however, tech bloggers and reporters are sure to continue speculating on the matter.
Follow me @LouisBedigianBZ
Posted-In: Amazon Apple iPad Mini Kindle FireNews Tech Trading Ideas Best of Benzinga
View Comments and Join the Discussion!